[ad_1]
It is so easy to get bored of jacket potatoes on Slimming World because you get stuck on the same fillings.
Actually, if you put a little thought into it a jacket potato is a really versatile meal and there are so many jacket potato fillings you can have that are either syn free or use your healthy extra a allowance.
Jump to:
When to enjoy a jacket potato?
Perhaps instead of a jacket potato as a meal, you could have it as a side dish to another meal? Just omit the jacket potato fillings and enjoy.
Here are some suggestions you might not have thought of. Don't forget to add some vegetables or salad to it though if you can for a truly Slimming World friendly meal.
How to cook the perfect jacket potato – the best jacket potato recipe
Everyone has their preferences of course but to me, the perfect jacket potato is one which is slow-cooked.
Simply give the potato a few pricks with a fork, season well and give it a few sprays of low-calorie cooking spray (olive oil variety works best) then wrap the potato in foil.
Place wrapped potatoes into the slow cooker and cook for 4-5 hours on high depending on the potato size.
How to cook jacket potatoes in the Ninja Foodi
If you have a Ninja Foodi then this is the best way to make jacket potatoes perfectly in there. It will probably also work well in the Instant Pot as it is similar but as I do not have one of those I am unable to tell you that for sure!
Prick potatoes with a fork all over and place in crisper basket into the Ninja Foodi pot and add around 300ml of hot water to the bottom of the pot.
Pressure cook with the pressure lid for 10 minutes on high.
Release steam and remove water from the pot then replace potatoes in crisper basket and spray low calorie cooking spray over the potatoes and set to bake/roast and cook with the other lid for 8 minutes before turning over and spraying again.
Cook for a further 8 minutes on bake/roast.
If they are not crisped to your liking them set to air crisp and cook at 200°c for around 15-20 minutes, turning half way until the desired crispiness!
How many calories are in a jacket potato?
Potato, without any extras has 77 calories per 100 grams. If you cook as above with low-calorie cooking spray then add low calorie toppings it is a really healthy meal.
How many syns in a jacket potato?
Providing you do not use any oil in the cooking of your jacket potato then the potato itself is syn free and any syns are only in the toppings you choose!
Check out my other potato recipes and ideas for some alternatives too.
What about Mccain jacket potatoes?
Have you seen the microwave jacket potatoes by McCain? It would be easy to presume they are also syn free but unfortunately they are not.
Each potato, however, is only one syn so if you are short on time or just prefer these they are not too bad really.
Syns of jacket potatoes when eating out
Slimming World generally ask brands what their policy is, this does not mean, of course, that every branch does the same so the syns in jacket potatoes when eating out is difficult to gauge and largely depends on toppings.
If you are not a follower of Slimming World these should still give you an indication of where does healthier jacket potatoes.
If you go somewhere like Hotel Football where things are cooked from scratch it is easy to ask them directly how they are cooked.
Wetherspoon jacket potatoes
Five bean chilli – 11.5 syns
Tuna mayo – 15.5 syns
Cheese and beans – beans are free but the cheese will depend on the weight.
Don't be tempted to have warm chocolate brownie while you are at Wetherspoons though, the syns of those are 43.5 per serving! No, that is not a typo, literally almost 3 times your daily syn allowance!
Morrisons Cafe
Beef chilli and salad – 11 syns
Light coleslaw and salad – 7.5 syns
Prawn cocktail and salad – 22 syns
Cheddar cheese and salad – 18.5 syns
Slimming World Jacket Potato fillings
Cottage cheese – this really is one of my favourite fillings and if its fat free and plain its generally syn free!
Baked beans – simple but yummy
Sweetcorn, mushroom and onion jacket potato topping
Cheese and beans – just be careful to keep the cheese in your allowance or syn it.
Mushy peas – not my thing at all but Stuart loves them on jacket potatoes.
Chick Pea Dahl – Some are syn free and good value.
Taco beef stuffed sweet potato
Spaghetti hoops – not my idea of a good filling but many people love them.
Ratatouille – you can easily make this yourself with onions, peppers, mixed herbs and tomatoes.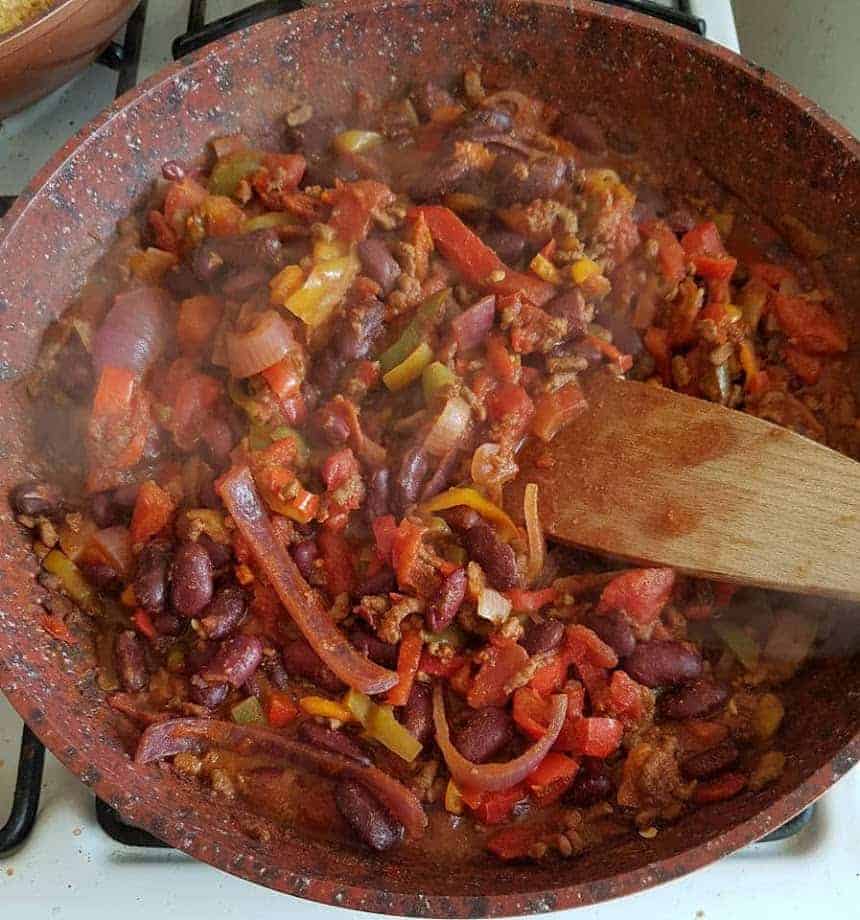 Stir fry vegetables – add some flavouring like fajita seasoning and it makes it lovely.
Mince and onions
Chilli – if you have it one day for tea then make extra for a jacket the following day or pop in the freezer.
Bolognese – as above with chilli save some from a meal.
Curry – again if you make it save extra for a jacket! This homestyle vegetable curry is perfect on a jacket potato too.
Tuna – it doesn't have to be with mayonnaise you could add some fat-free fromage frais to stop it being too dry
Coleslaw – make some Slimming world friendly coleslaw – recipe here.
Bacon and melted cheese – be sure to weigh the cheese and remove the fat from the bacon
Cheese and garlic fried mushrooms – weigh the cheese and use garlic frylight for the mushrooms.
Chicken/Quorn and mushroom curry
Mediterranean Vegetables in a Balsamic tomato sauce.
Sticky Mushrooms – these are lovely and so easy to make.
Top tips for jacket potatoes when eating out on Slimming World
If you want to be really strict with yourself ask for any cheese to be given to you separately. This means you can see how much you are putting on and are not at the mercy of a keen chef!
Ask for your jacket potato without butter. Many places put butter on the side anyway now but it is always worth checking.
If your jacket potato has a side salad ask for no dressing or for the dressing to be brought out in a separate pot.
Ask how the jacket potatoes are cooked and reheated. This may seem crazy but some places cook them in the morning in the oven but then reheat them by popping them in a deep fat fryer! Obviously this adds lots of oil so is something to be avoided!
Maybe you have some other ideas for fillings? Do comment below and share them!
Do you have any favourite places to eat out that do yummy jacket potatoes? I love the ones from Morrisons Cafe!
Etsy weight loss buys
If you are like me and like buying fun new items to motivate your weight loss, then here are my favourites.
Etsy is great for kitchen and weight loss goodies. I could spend hours browsing there.
There are so many great food diaries too so you can record your meal plans and track your weight loss to keep a record of the good and bad weeks.
Click the photos to have a look for yourself.
Choosing sweet potato for a jacket potato
Sweet potatoes are a little healthier than standard white potatoes and have such a different flavour they are popular as an alternative. Sweet potatoes have many health benefits! They can be enjoyed with the same jacket potato fillings as regular potatoes!
Weight loss Guides
I have a lot of Unofficial Slimming World guides and weight loss information along with support if you want to exercise for weight loss including if you have a condition like fibromyalgia.
Have a good look around and see how I can help you achieve your weight loss goals. Request my free resources to get you started too!
Here are some quick jump buttons to help you find my most popular Slimming World guides (all unofficial) and be sure to check out all my healthy recipes too.
My amazing freebies
I know how hard it can sometimes be to stick to a plan and follow a new routine. Planning is key so here are some weight loss resources that should really help you with that.
[ad_2]