[ad_1]

These homemade chicken nuggets are baked to perfection with a crispy crunch on the outside and melt in your mouth tender chicken on the inside. Made with my special method, these chicken nuggets are easy for toddlers and kids to eat, and delicious for adults!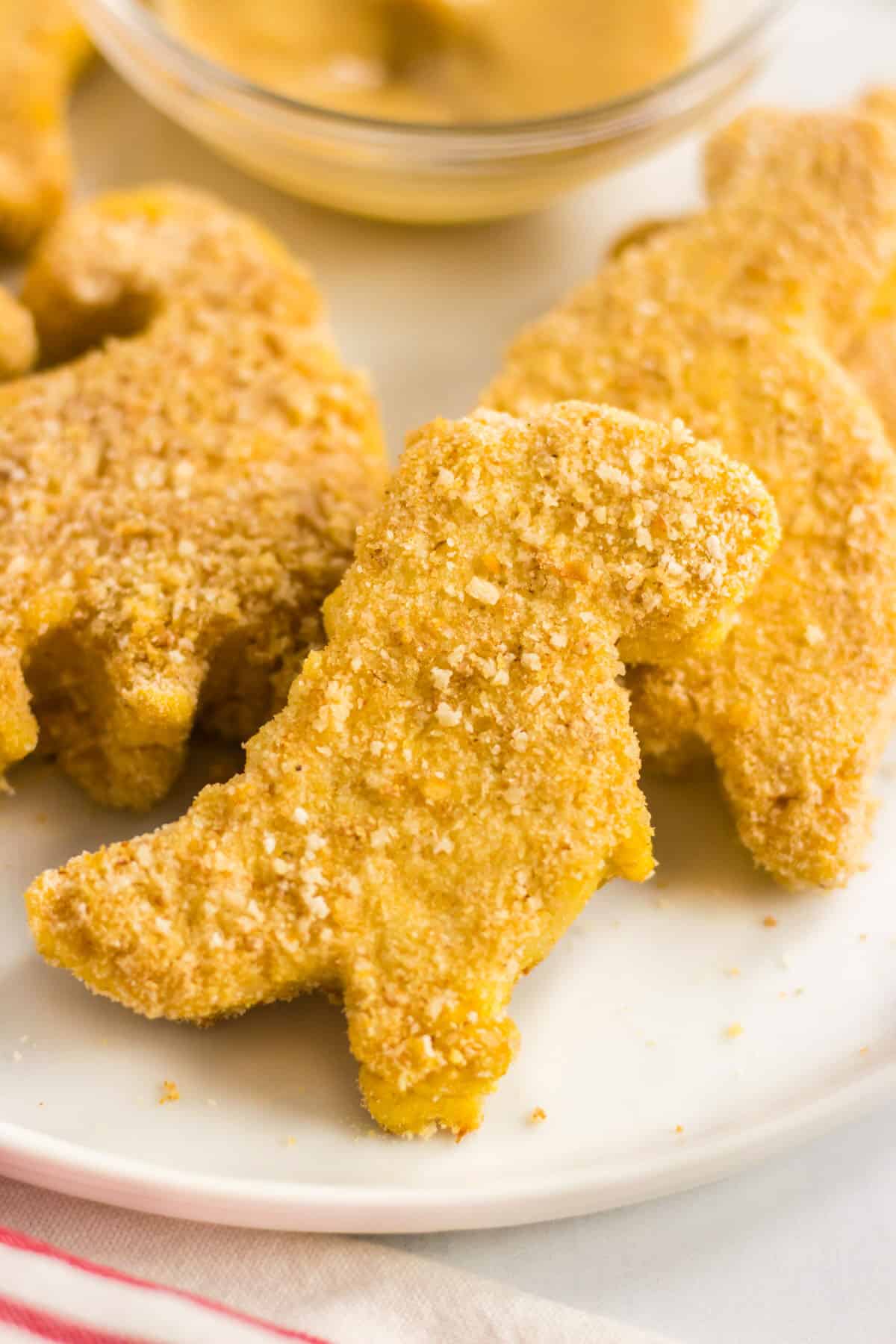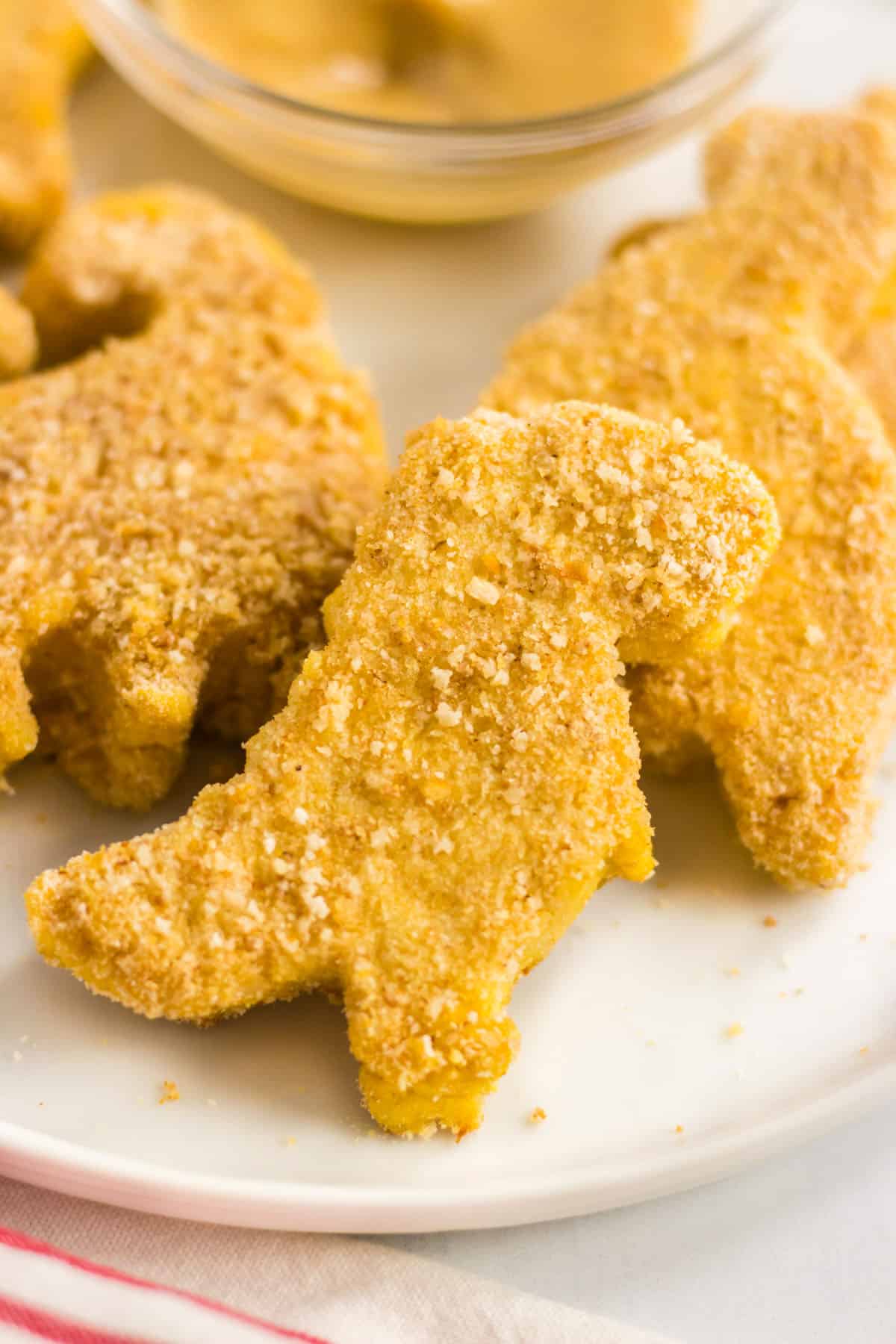 Chicken nuggets are are a common staple in the diet of many kids.  They are incredibly accessible at fast food restaurants as well as in every freezer section at the grocery store.  As much as kids love chicken nuggets from any source, the truth is that the best chicken nuggets are homemade.  They are fresh, delicious and you don't have to wonder what type of meat is ground up and packaged in your nuggets.
We've all made chicken nuggets using bite size pieces of chicken, rolled in a breading, and baked, right?  We eat those a lot and love them!  But, we started thinking how hard that is for toddlers and younger kids to chew. Sometimes, meat can be especially tough for toddlers without all their teeth.  One reason processed nuggets are so popular among little kids (beyond the salt, fat, and chemicals), is of course that they are easier to eat.  So, I decided to make our own 'Un-Processed' nuggets and they turned out absolutely amazing!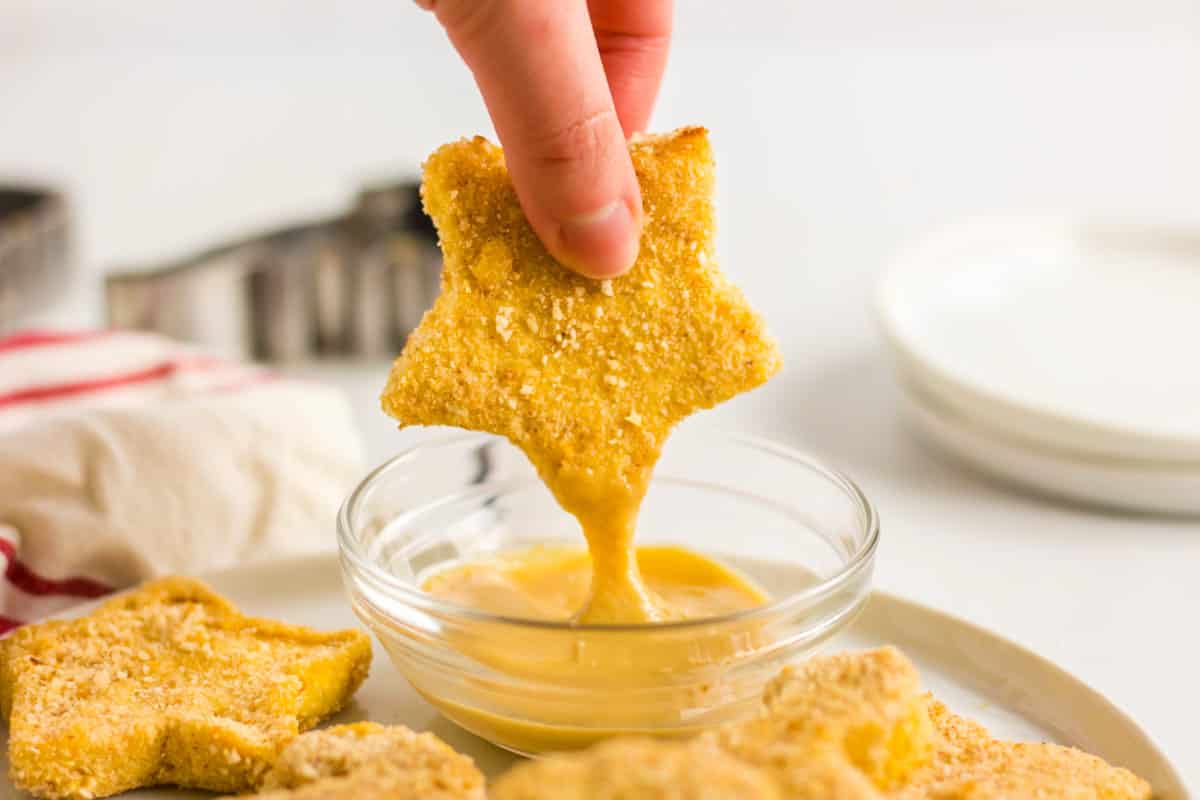 Ingredients to Make Kid-Friendly Homemade Chicken Nuggets
Chicken Breast – you will want to use boneless skinless chicken breast, You can use boneless, skinless chicken thighs if you want the meat to be a bit more rich and moist.
Egg – this acts as a binder to the chicken and helps it to stay in 'nugget' form.
Bread Crumbs – you can use regular bread crumbs, or for an extra crispy version, try using Panko bread crumbs.
Butter – this is optional, but helps to crisp up the outside of the nuggets.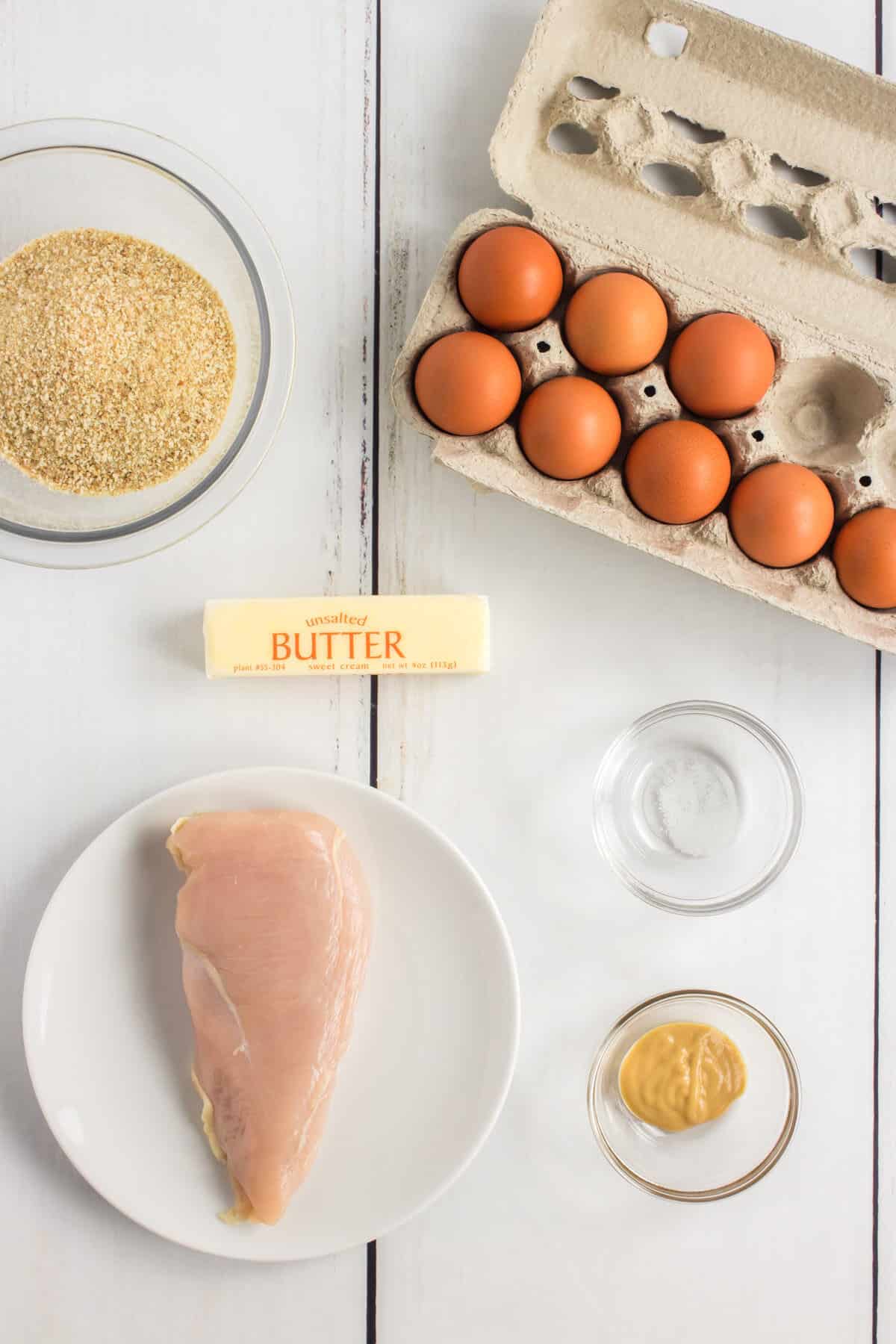 How Do You Make Homemade Chicken Nuggets?
The typical way homemade chicken nuggets are made is by cutting up bite size pieces of chicken breast, dredging them in a flour mixture, egg mixture and then a breadcrumb mixture.  After that nuggets can either be baked, deep fried, pan fried, or even air fried! Making chicken nuggets using this method is a super easy way to make them and they turn out delicious.  But keep reading for our more kid-friendly method!
Start by cooking the chicken breast.  We chose to boil our chicken to help keep it moist.  You can use whatever method you prefer to cook your chicken breast, just be aware that if your chicken breasts come out too dry, your nuggets will also be dry.  So make sure you don't overcook your chicken.
Combine your cooked chicken in a blender or food processor with the egg and salt. Blend it together until you have a somewhat ground mixture.
Shape your chicken nuggets. To make these chicken nuggets more fun, because the chicken is soft and moldable after blending,  you can shape them!  Dino nuggets are sold in a lot of stores, so if you have a dinosaur mold to use, that could be fun.  But really you can try any shape.  If you want to make shapes, press the chicken mixture into cookie cutters, and then press them into bread crumbs.  It doesn't take that long and kids love when their food is presented in a fun unique way.  They can also help with this step – just make sure they wash their hands good after!
Bake. Once your nuggets are formed, place on a cookie sheet to bake.  We drizzled with a little butter, so they would come out crispier.. totally optional! Then, bake at 400 for about 10 minutes (flip half way through to get both sides crispy. 
Serve with your favorite dip like ketchup, honey mustard, ranch, or BBQ sauce. Enjoy!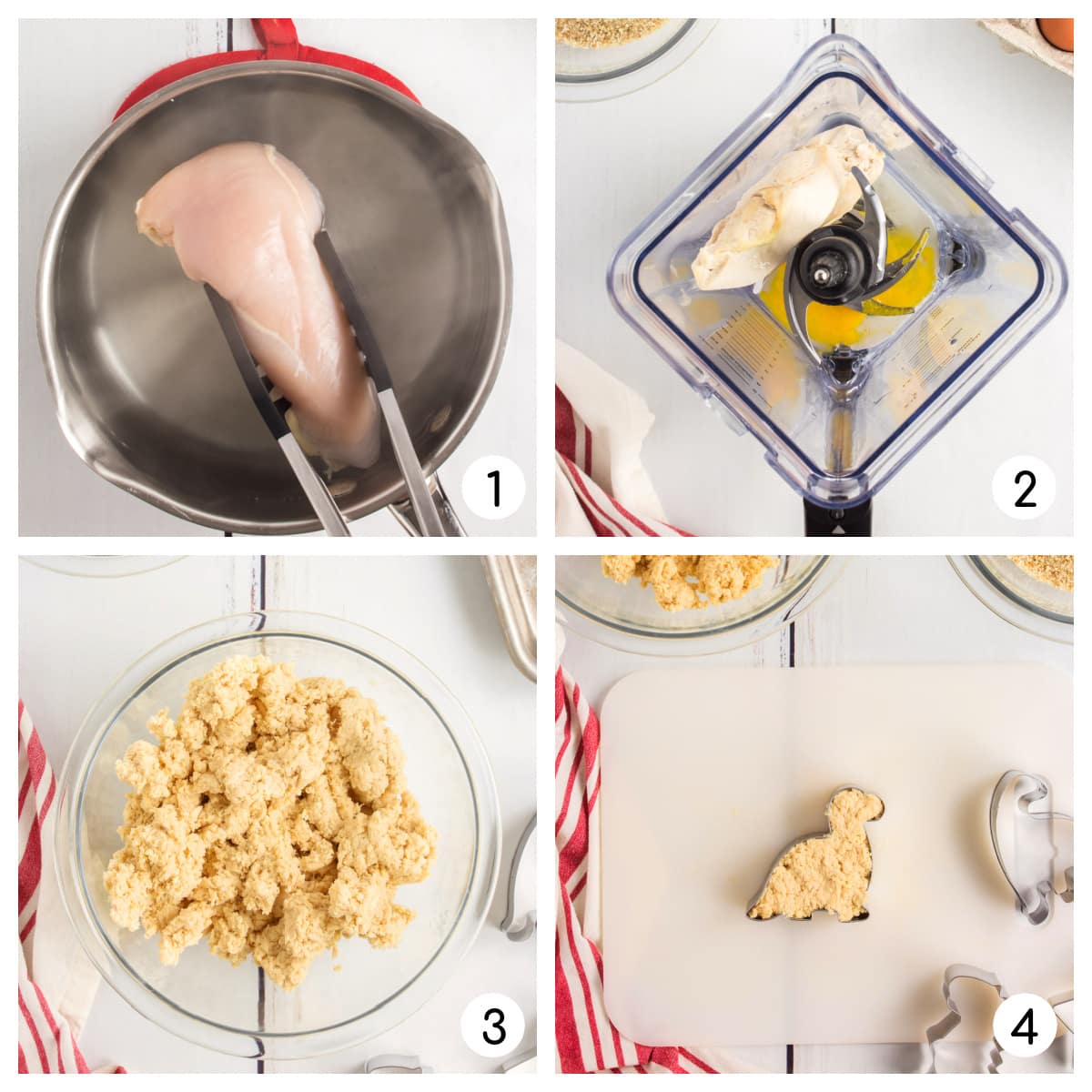 Can You Freeze Homemade Chicken Nuggets?
Yes!  This is a great recipe to make in a large batch and freeze some for a quick meal later.  To freeze these chicken nuggets:
Make following the recipe including baking the nuggets
Let the nuggets cool completely.
Portion out nuggets and place them in an airtight container or freezer bag.  Label.
Freeze for up to 2 months.
To Reheat:
Preheat oven to 350 degrees F.  Place nuggets on a baking sheet covered with parchment paper.  Bake until heated through, about 30 minutes.  Flip half way through to get them crispy on both sides.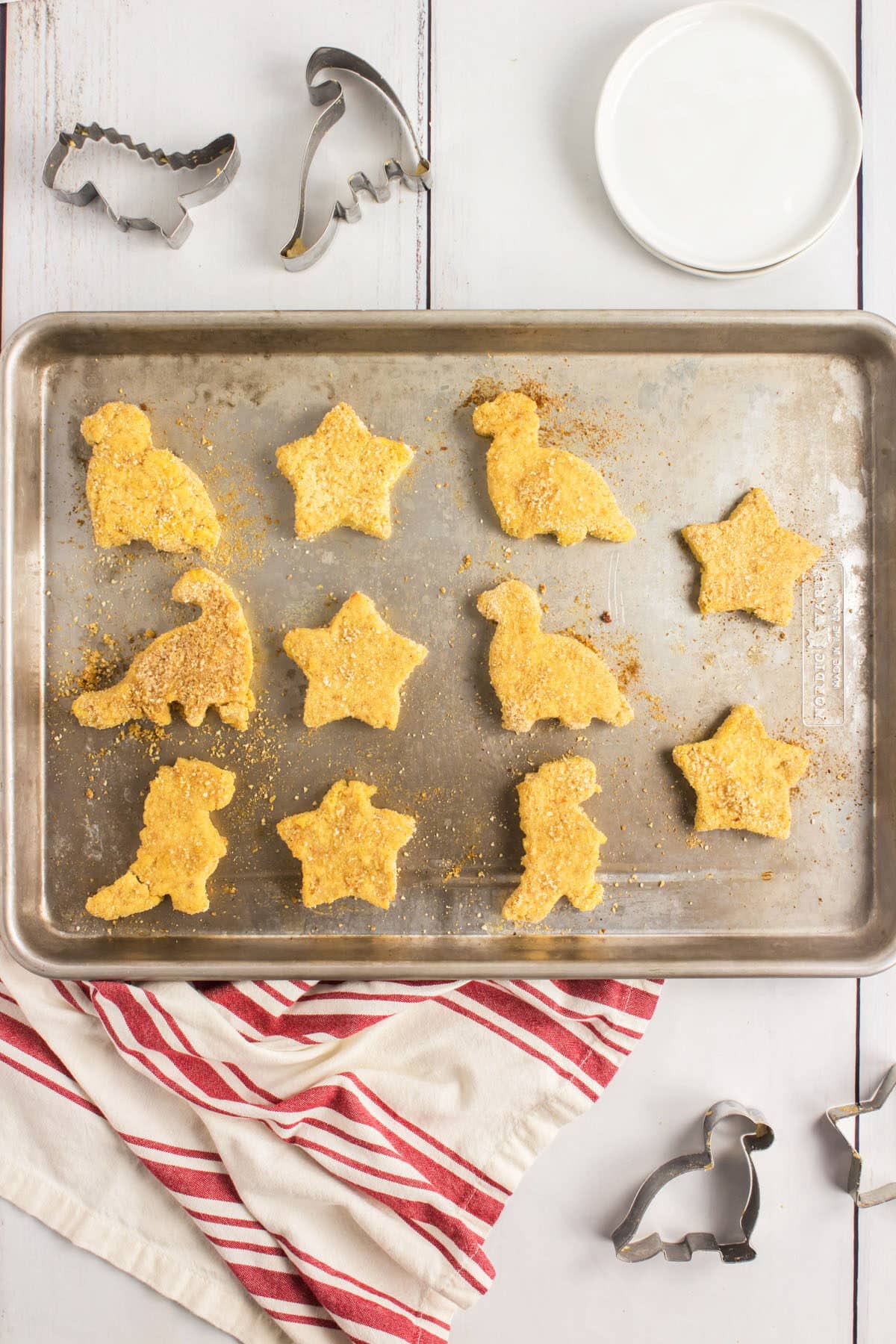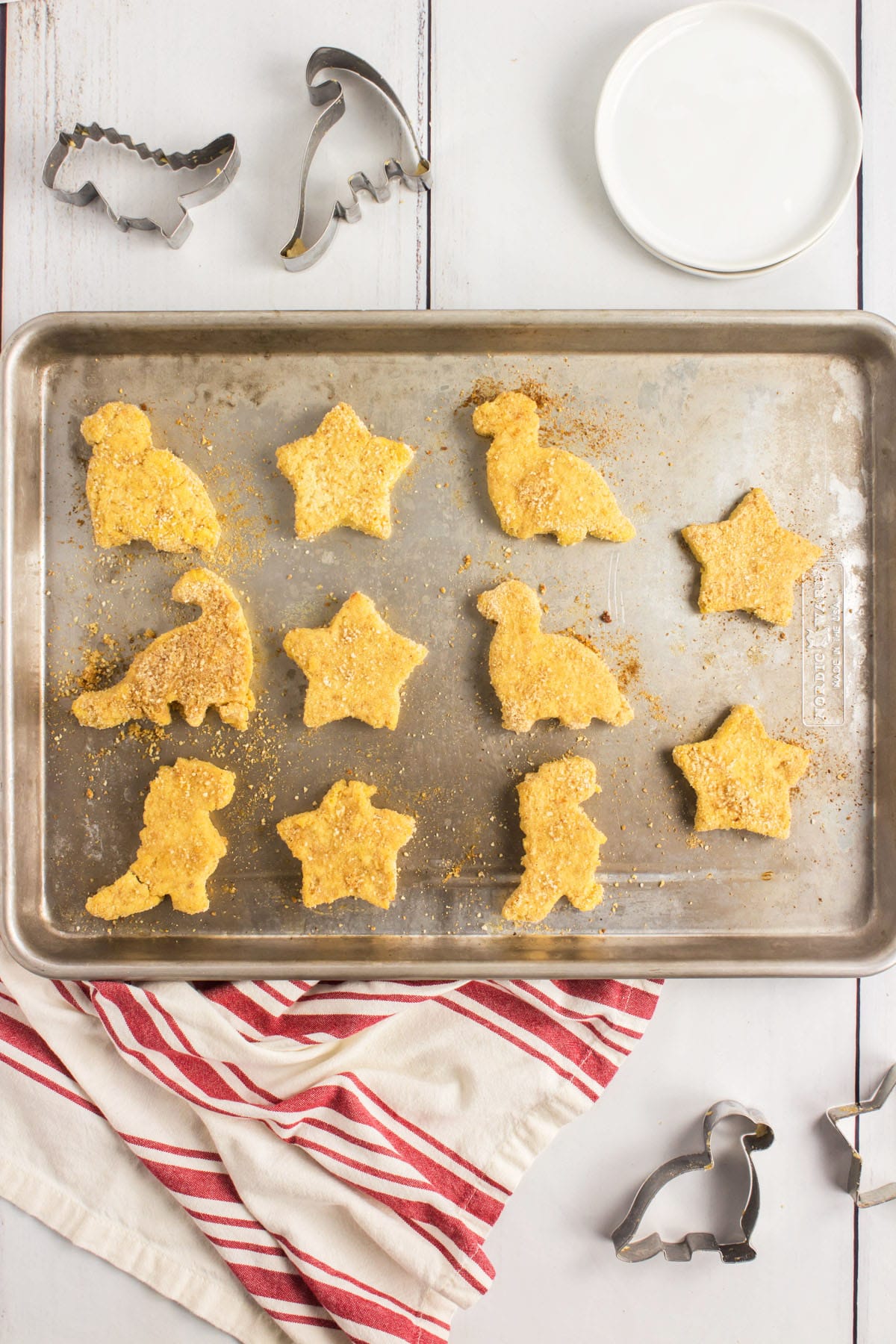 Variations and Substitutions with Homemade Chicken Nuggets
Egg Substitute. If you can't have eggs, you can make a flax egg that works really well in this recipe. Just mix 1 tablespoon flax seeds with 4 tablespoons water and whisk until frothy. Then add it to your chicken just like an egg.
Flavored Breadcrumbs. If you want to add more flavor to your bread crumbs, you can add 1/4 cup parmesan cheese to give it a salty flavor and more crunch.
Buttermilk. To give these a bit more richness and help the bread crumbs stick, you can dip the chicken in buttermilk and then breadcrumbs.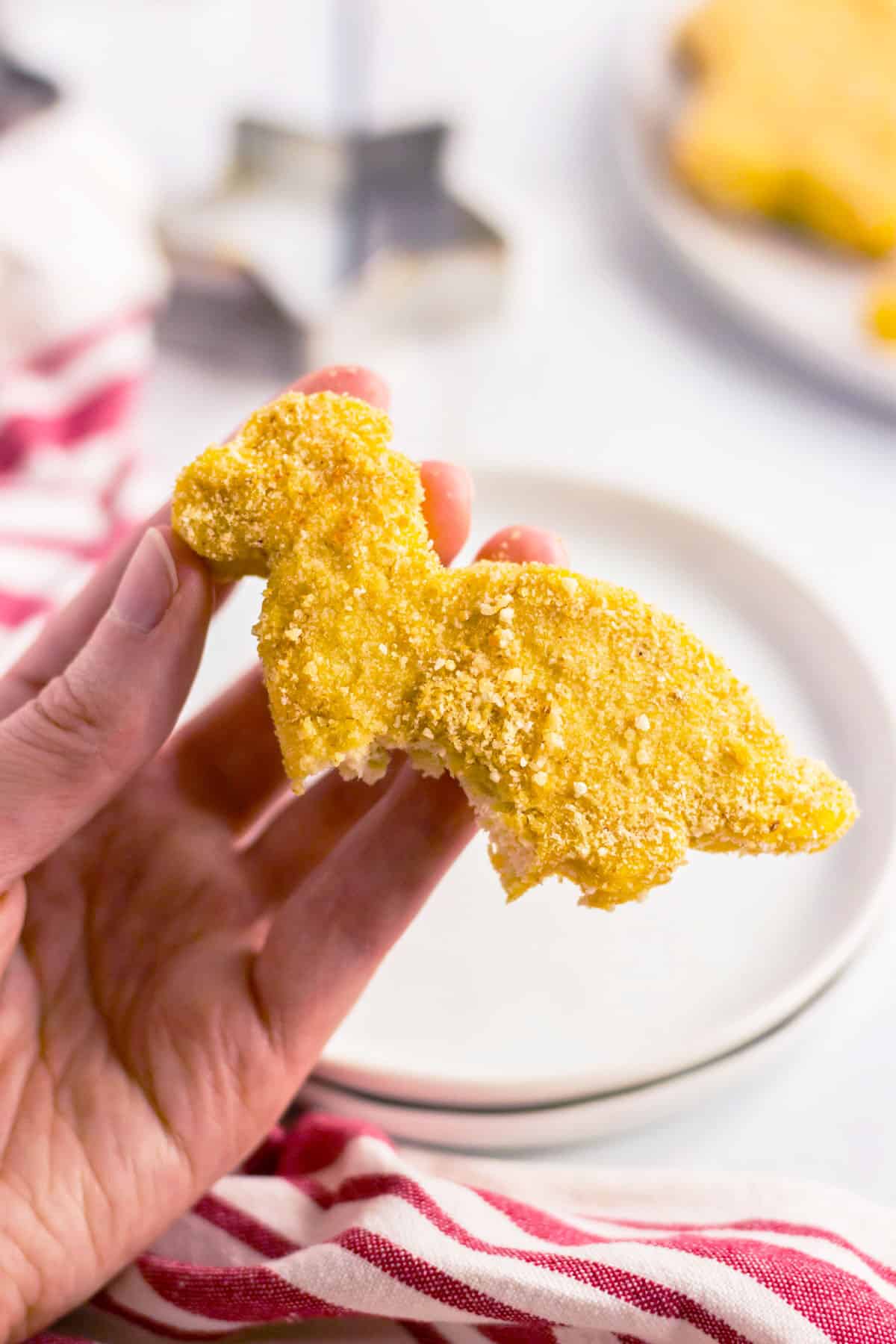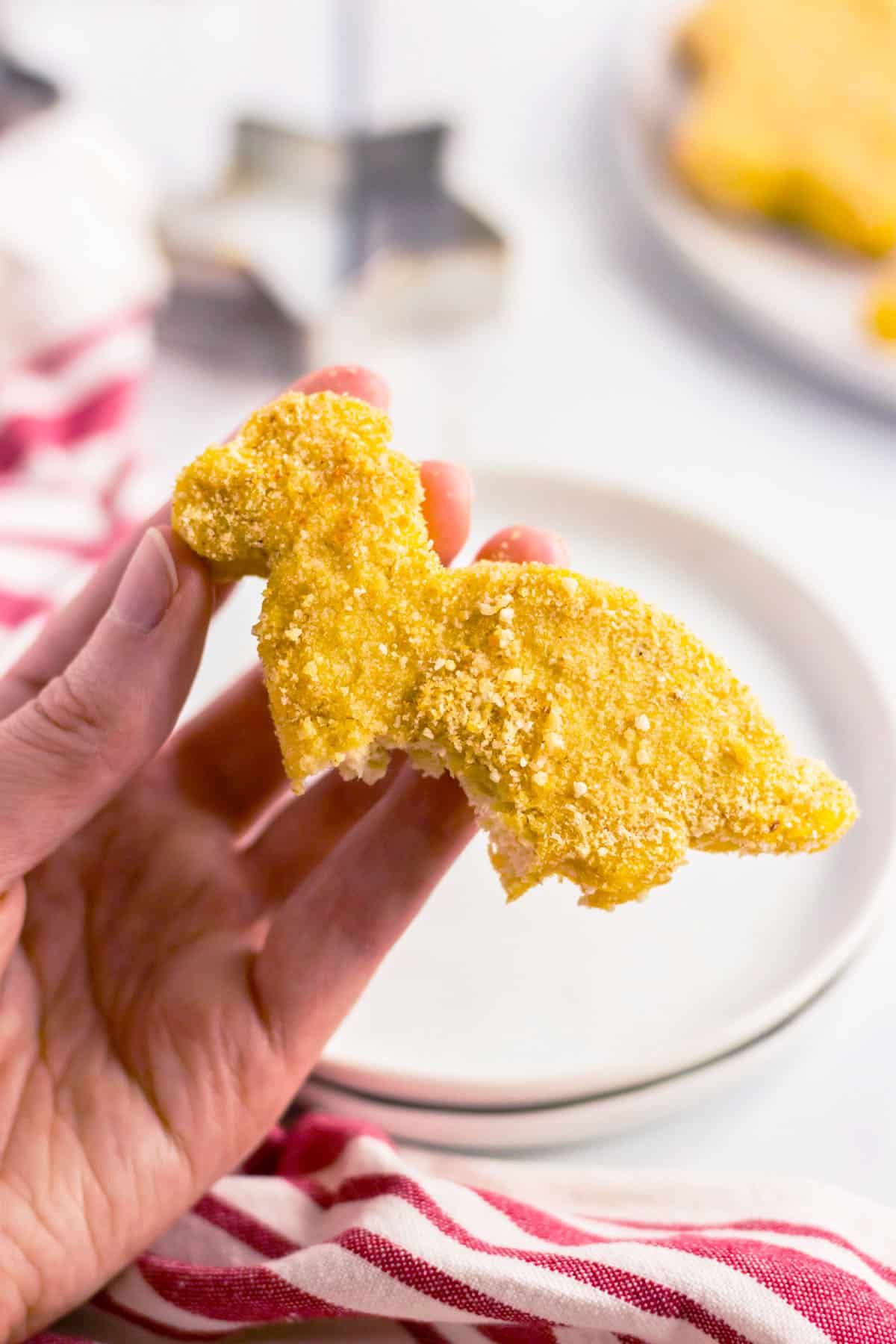 More of Our Favorite Chicken Nugget Recipes for Kids
Vegetarian Nugget Recipes
1/2

pound

chicken breast

1

large

egg

1

dash

salt

1/2

cup

bread crumbs, plain

2

tablespoon

butter, unsalted

2

tablespoon

honey mustard dressing
1.  Boil chicken breast for 20 minutes in water.

2.  In a blender, blend together cooked chicken breast, 1 egg and salt.

3.  Pack small balls of the meat mixture into cookie cutters, and roll in bread crumbs.  Or make meat mixture into small balls and roll in bread crumbs.  Shapes are optional

4.  Place shapes (or balls) onto a cookie sheet.  Drizzle with a little butter to make them crispier.

5.   Bake at 400 degrees for about 10 minutes.  Flip halfway through if you want both sides crispy.

6.  Dip in your favorite dip, like honey mustard, spicy mustard, BBQ sauce, Ranch Dressing, etc.  Enjoy!
Calories: 225kcal | Carbohydrates: 12g | Protein: 16g | Fat: 12g | Saturated Fat: 5g | Cholesterol: 105mg | Sodium: 255mg | Fiber: 1g | Sugar: 2g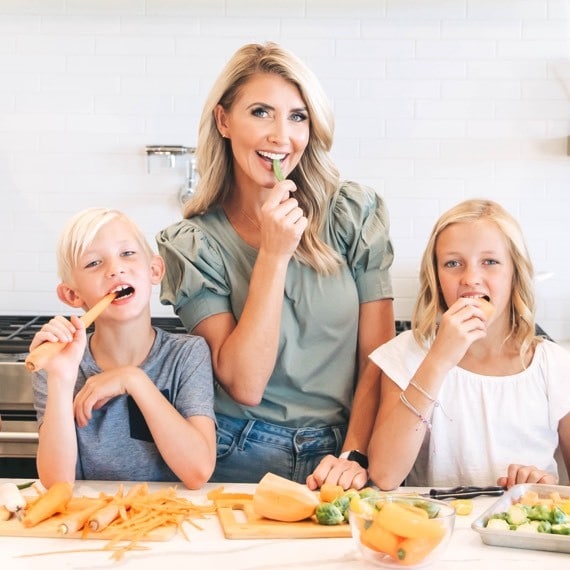 Natalie Monson
I'm a registered dietitian, mom of 4, avid lover of food and strong promoter of healthy habits. Here you will find lots of delicious recipes full of fruits and veggies, tips for getting your kids to eat better and become intuitive eaters and lots of resources for feeding your family.
[ad_2]