[ad_1]
Here I have a tasty sticky chicken salad recipe from Carla who writes over at MyBump2Baby. Whilst it isn't a syn free recipe she assures me it is totally worth the syns! Let me know what you think in the comments below.
Jump to:
What makes this salad recipe different?
Now, this sticky chicken salad isn't any ordinary salad – I assure you. If I had to describe this salad in 2 words it would be a "mouth-watering masterpiece".
Although the honey does hold a small syn value this recipe is perfect for anyone on Slimming World with a sweet tooth. The syns in the whole recipe is 7.5 so if you are making that for two I would could 3.5 syns each. Still, this is much better than a shop-bought salad covered in a dressing!
As you know on Slimming World it is important to have a lot of speed foods. More information about that here.
This sticky chicken salad recipe means that you can have a salad that is quick and easy to make whilst also being full of flavour and hot.
Using frozen chicken
Chicken for this or any other chicken recipes should never be cooked from frozen, there are so many issues with this that risk food poisoning. If you have just realised you only have frozen chicken there I have lots of tips to safely defrost chicken check them out in my defrosting chicken guide.
More Slimming World friendly recipes
If you love the look of this then don't forget to check out my other Slimming World friendly recipes in my menus.
You will find lots more tasty recipes including the popular Cowboy Cheesy Potato bake, Mushroom Stroganoff and Vanilla baked cheesecake!
Please do share this recipe on your Slimming World groups and with friends across social media so everyone can enjoy it.
If you want to pin it on Pinterest for later then do it with the image below so you don't forget! Trust me you will love this recipe!
I try to ensure all of the recipes I make are accessible for everyone. This one is so cheap and easy you will wonder why you have not made it before!
I do not use obscure hard to find ingredients. I also believe that recipes should use as few ingredients as possible and avoid expensive ingredients.
We would all much rather spend money on holidays than expensive ingredients wouldn't we?
Buying herbs and spices in bulk is something I really recommend. It can save a lot of money in the long term but also mean you never run out! I find putting them on Amazon subscribe and save helps too!
Shopping around to see which shops have offers on your usual products can make a big difference to your weekly shopping bill. Additionally don't forget to check out the yellow sticker reductions and freeze what you can.
Frozen vegetables are nutritionally just as good as fresh usually so do keep an eye for those too to save money. Do you have any particular frozen vegetables you love? Do share them with me it is always nice to hear people's recommendations.
Why this sticky chicken salad recipe is perfect on Slimming World
If you follow Slimming World then you will instantly know what I am talking about and why all the meals on your meal plan need to include speed vegetables. There are lots of vegetables in this recipe but there is nothing stopping you adding more on the side.
If you don't then this could still be of interest to you for whatever diet you follow or perhaps just to be a little healthier.
Check out my ready-made meal plans to help you along the way with lots of my delicious Slimming World recipes including syn free recipes.
How many vegetables should I eat?
Slimming World advise you to have ⅓ of every meal as speed foods. Other than possibly for breakfast this is likely to be vegetables!
The reasons the specific vegetables are deemed as speed vegetables is because they have a low-calorie density.
This means if you eat 100g of spinach for example it is just 23 calories and obviously 100g of anything would fill you up significantly. On the other hand 100g of crisps, which would be just as filling, is around 536 calories!
Why are vegetables so great?
Whether you follow Slimming World or not adding vegetables to your meal not only adds vitamin c and all the nutrients in vegetables but will also help you lead a more balanced healthy lifestyle and potentially lose weight!
Don't forget too that vegetables are high in fibre and as such you are less likely to get constipation and need my Slimming World constipation tips!
Frozen or canned vegetables?
Frozen or canned vegetables as long as they are not cooked or canned in any oil etc have the same nutritional value as fresh vegetables and are great to save money and time.
Here is a list of all the current Slimming World speed vegetables. Feel free to save it and of course share with your friends.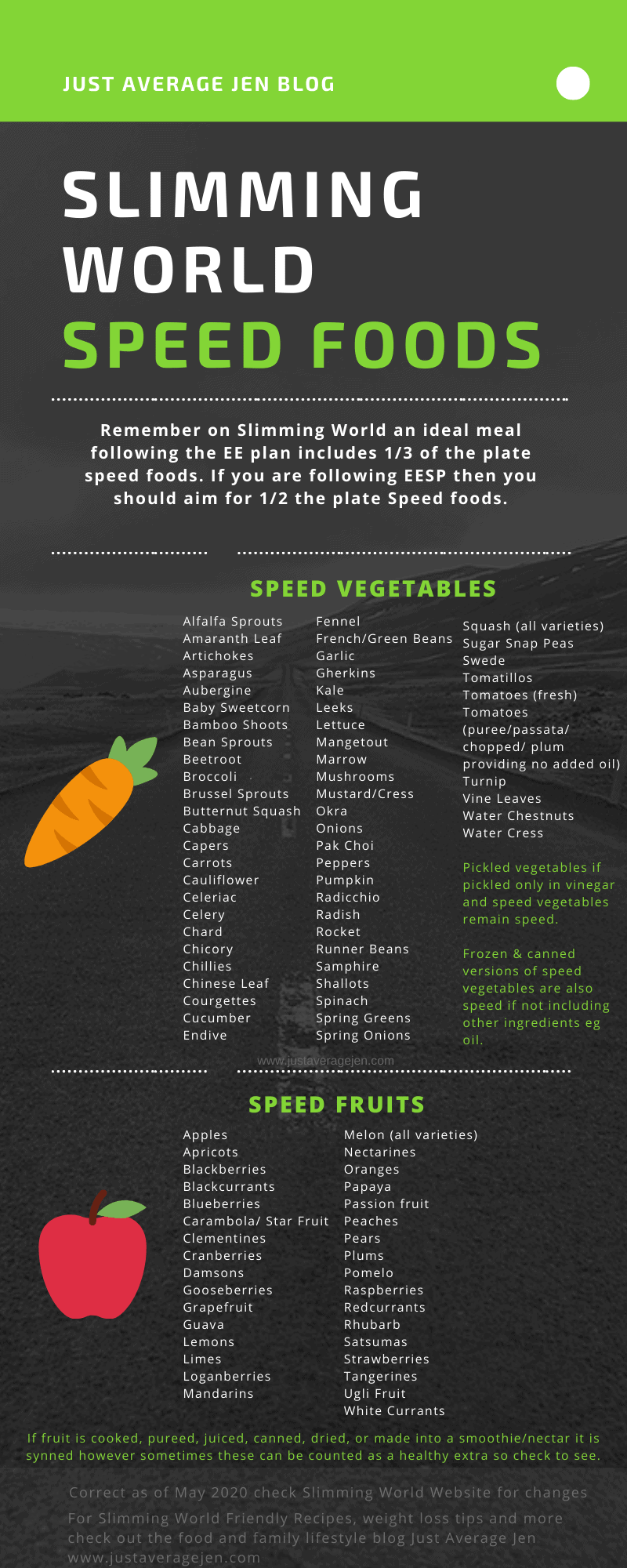 More Slimming World recipes you may enjoy
If you enjoyed this sticky chicken salad recipe you can find more recipes with chicken here.
This is a great recipe for an easy lunch if you follow Slimming World. You can find more lunch ideas here.
Have you tried Slimming World sticky mushrooms yet? Or the Sweet and sticky marinade and Sweet and sticky butternut squash? All are recipes I think you will love.
Weight loss Guides
I have a lot of Unofficial Slimming World and weight loss information along with support if you want to exercise for weight loss including if you have a condition like fibromyalgia.
Have a good look around and see how I can help you achieve your weight loss goals. Request my free resources to get you started too!
Here are some quick jump buttons to help you find my most popular Slimming World guides (all unofficial) and be sure to check out all my Slimming World friendly recipes too.
Check out frequently asked syn values here.
Print
Recipe
Sticky chicken salad – Slimming World friendly recipe
Author:

JustAverageJen

Prep Time:

5 Minutes

Cook Time:

10 Minutes

Total Time:

15 minutes

Yield:

2

Portion

1

x

Category:

Main meal

Method:

hob

Diet:

Low Calorie
---
---
Instructions
Add Balsamic vinegar, soy sauce and honey to a big glass bowl and mix well.
Add the diced chicken and coat in the mixture, cover and for best results leave 5 hours or as long as possible in fridge.
Place your salad leaves on to 2 plates, add the sliced peppers, quartered tomatoes, diced red onion and cucumber.
Add the chicken to a wok on a medium/high heat with a few sprays of low calorie cooking spray.
Push round pan to ensure the chicken doesn't stick for approximately 5 minutes or until all chicken is thoroughly cooked.
Remove from pan and pour chicken and any remaining sauce over salad.
---
---
Keywords: Salad, Slimming World, Low syn,
Recipe Card powered by
Pin This!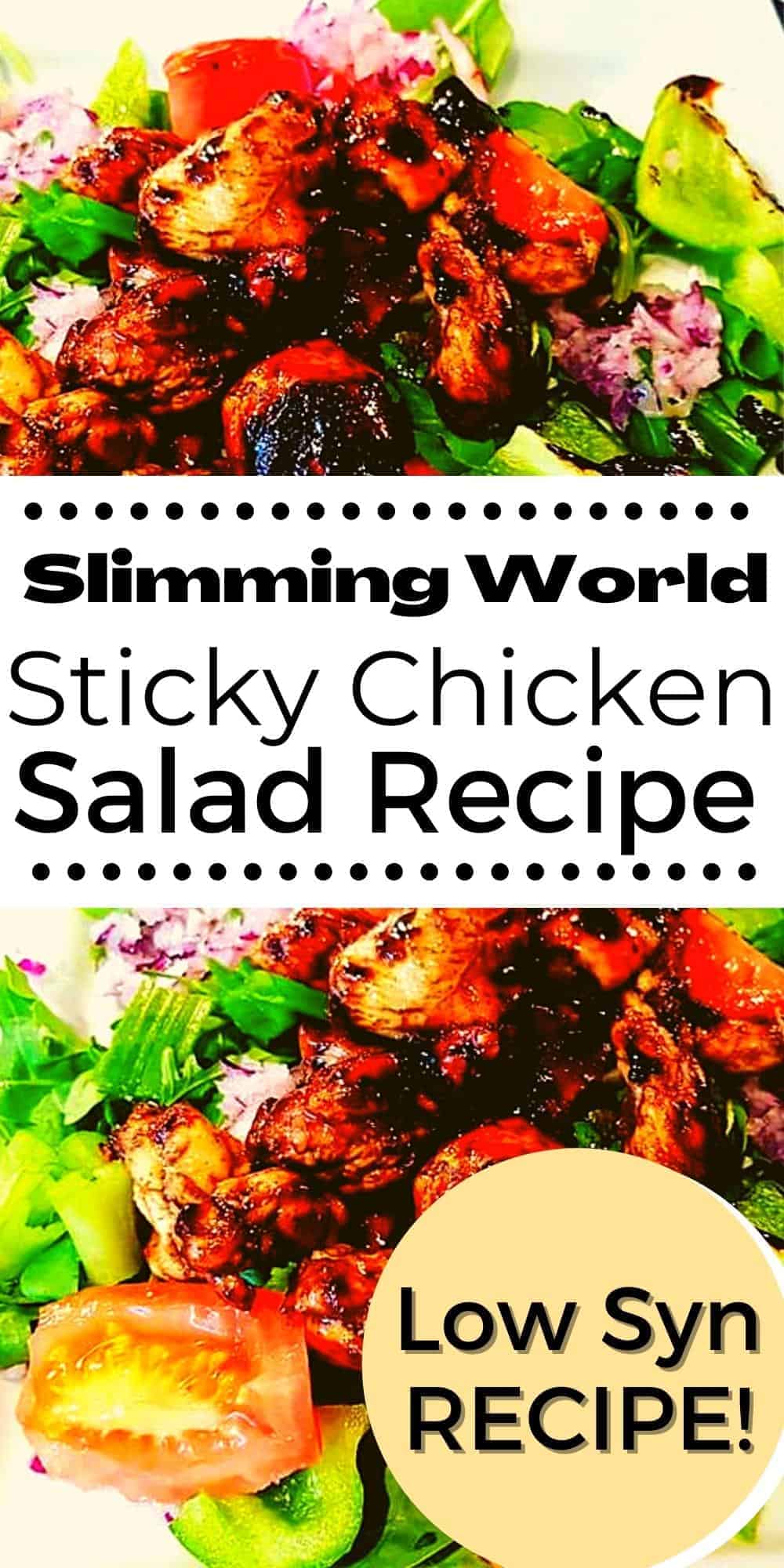 My amazing freebies
I know how hard it can sometimes be to stick to a plan and follow a new routine. Planning is key so here are some weight loss resources that should really help you with that.
[ad_2]