[ad_1]

Transformation of the Day: Meshun lost 104 pounds. She overcame hypothyroidism, committed to an effective workout routine, and learned how to fuel her body with healthy, nutritious food. At 47 years old, she is in the best shape of her life and loving her new lifestyle.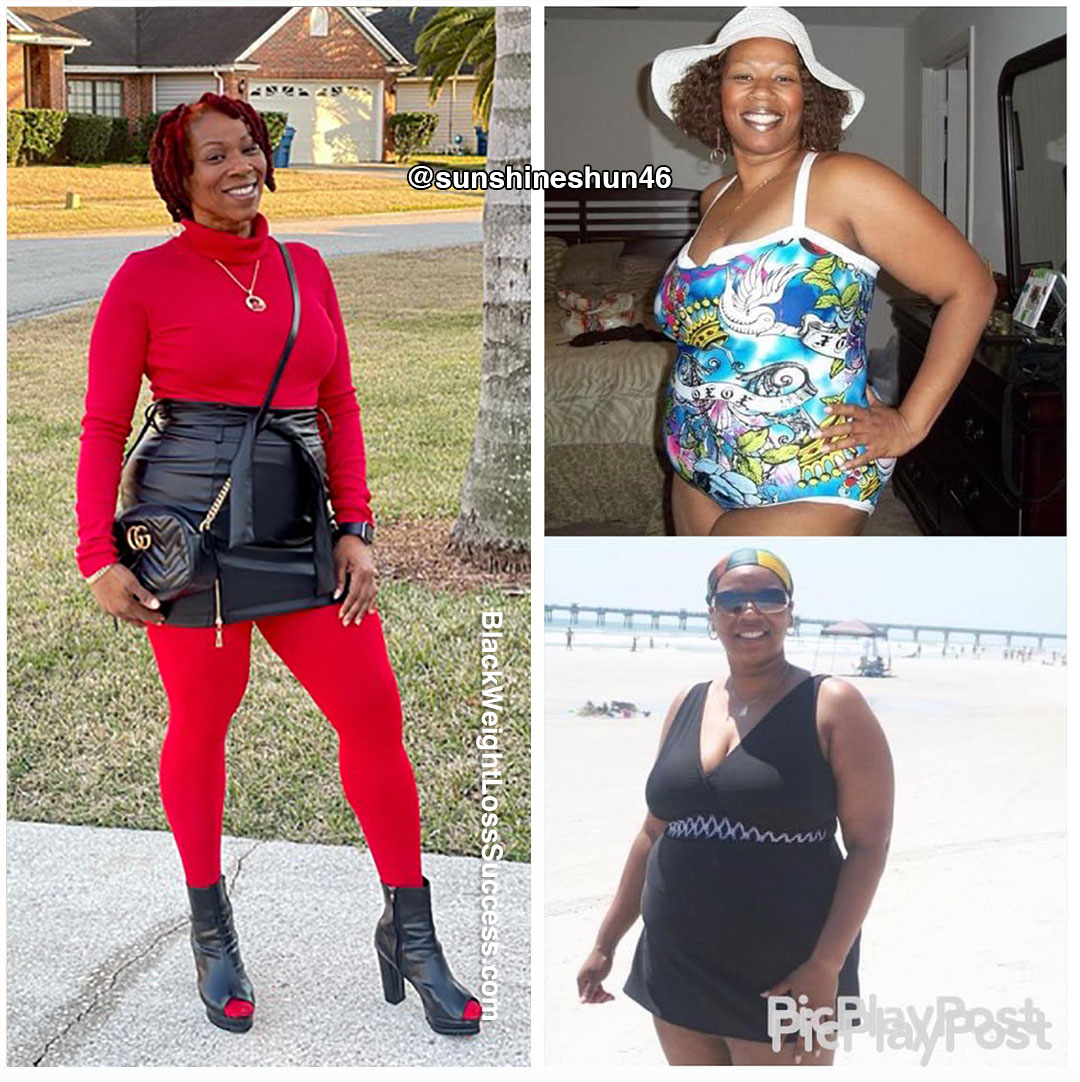 I started my weight loss journey because I wanted to be healthy. I always felt insecure growing up because I was overweight and did not like my body structure. 
I started my journey in 2010 by joining Bailey's gym. I can still remember going to the gym feeling insecure, lost, and embarrassed, but I kept going. When I began my journey, I weighed 276 pounds. I wore sizes 22-24 and wore a 44DD in bras. 
I remember trying the Atkins diet and many other fads to lose weight. During my journey, I developed hypothyroidism, which would cause a 40lb weight re-gain. As my journey continued, I would become more knowledgeable about my body, my partial thyroid, and what actually helped me to lose weight. 
As I continued to attend Bailey, I would meet some wonderful people who I began to take classes with daily. Before the pandemic, I attended classes daily at Baileys that included spin, TRX, cross-fit, and weight training. 
I learned that dieting did not work for me. I also learned the value of providing my body with the correct nutrients by eliminating processed food and eating many things in moderation (i.e., meat, dairy, bread). 
I started cooking more healthy meals, increased my protein intake, and learned about good carbs. Now I mostly eat seafood, fruit, and a lot of plant-based products. I live my life in moderation! 
I work out every day. My day starts at 4 am in the gym. I work out for 90 minutes doing cardio and weight training. After leaving the gym, I take my dog for a 2-3 mile walk/run and then ride my bike for 5 miles. I also began to purchase products that I could use to work out at home. 
I can honestly say that exercising helped me cope with many of life's challenges. I can recall days in the gym with the tears flowing while I worked out. I would learn that it helped with coping and stress. 
I worked for The Florida Department of Children and Families for 20 years investigating child abuse. The gym would provide a time and a space to process life and casework. I would use this time to release negative energy and gain clarity to help the families assigned to my caseload. 
I have learned that losing weight is more mental than it is physical. Unfortunately, we live in an "instant" society, where people focus more on instant gratification instead of putting in hard work towards their goals. I would quickly learn that anything "instant" is generally not good for you, so take that journey to build a solid foundation. 
I currently weigh 172 pounds and wear a 34DD bra/clothing sizes 11-12. I am 47 years old and in the best shape of my life. The weight loss journey is yours, and you have to "own it." You can hire all the personal trainers and seek quick weight loss options, but the bottom line is we still have to make healthy lifestyle changes. 
Instagram: @sunshineshun46


[ad_2]