[ad_1]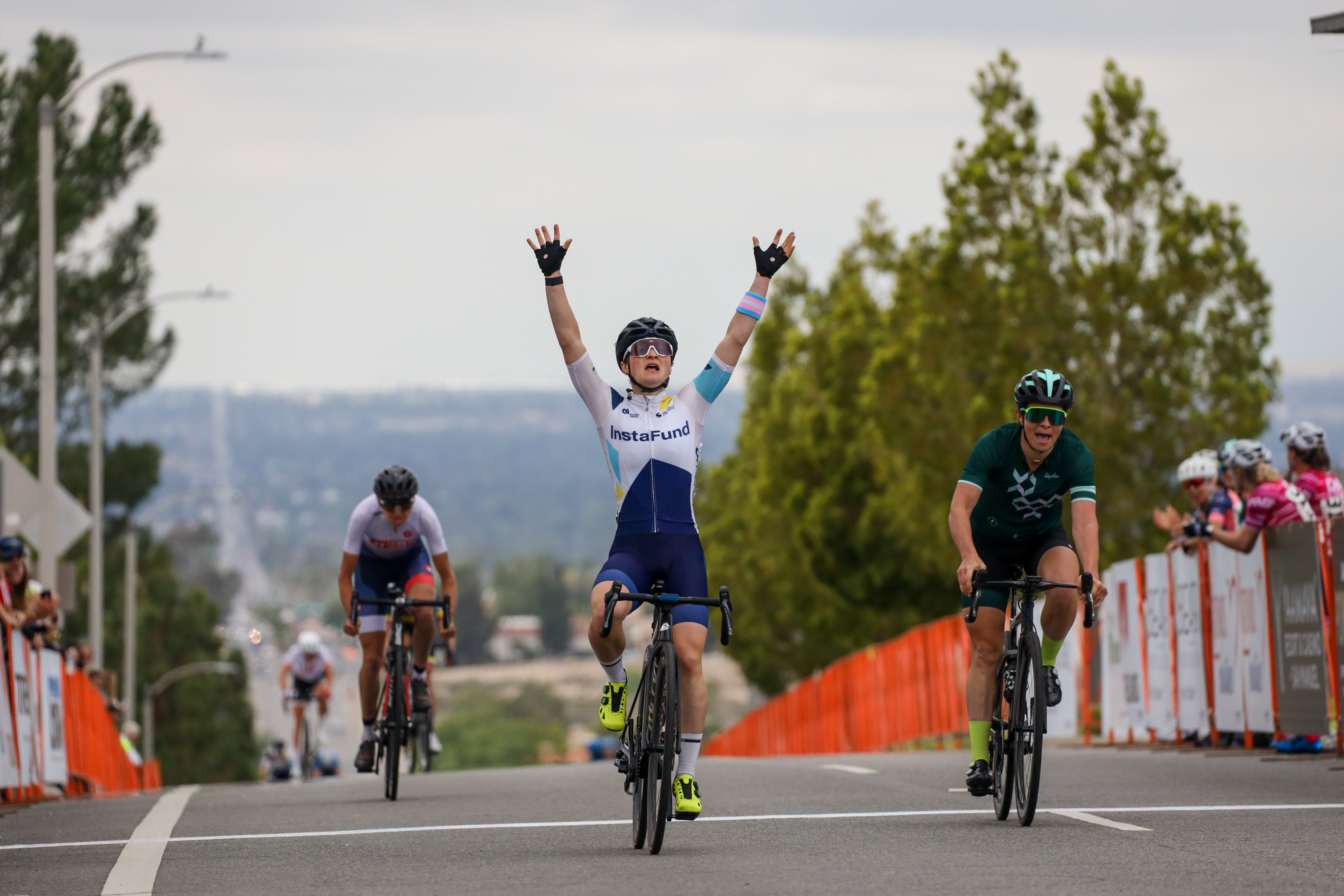 Heidi Franz (Instafund LaPrima) took out the opening stage of the 36th Redlands Bicycle Classic, winning the hilly Highlands Circuit in a small group sprint over Jennifer Wheeler (Fount Cycling Guild) and Emily Marcolini (3T/Q+M Cycling).
The trio were part of a 10-rider escape group that formed halfway through the stage, with Marcolini going on the attack for the mountains classification. They gained over a minute on the chasing field before Franz snatched the stage in the uphill sprint.
"It's really special because the last time I was at this race, I was racing for Rally at the time and we had just lost a teammate a month before," Franz said, remembering former teammate Kelly Catlin who died in 2019. "We won this stage with Megan Jastrab and it was so emotional. I just think of that every time I come here, and so it's super special to come back to this stage and be able to pull it off."
The Redlands Classic returned after two years of cancellations due to the COVID-19 pandemic. There are five stages for men and women, which are part of the USA Cycling Pro Road Tour.
Full Results

| Pos. | Rider Name (Country) Team | Result |
| --- | --- | --- |
| 1 | Heidi Franz (USA) Instafund LaPrima Elite | 1:42:49 |
| 2 | Jennifer Wheeler (USA) Fount Cycling Guild | |
| 3 | Emily Marcolini (Can) 3T/Q+M Cycling | 0:00:01 |
| 4 | Diana Penuela (Col) DNA Pro Cycling | 0:00:05 |
| 5 | Caitlin Conyers BMU LUX-CTS p/b Specialized | 0:00:10 |
| 6 | Maddy Ward (USA) Instafund LaPrima Elite | 0:00:18 |
| 7 | Haley Smith (USA) ATX Wolfpack p/b Pro | |
| 8 | Anet Barrera (Mex) DNA Pro Cycling | 0:00:22 |
| 9 | Isabella Bertold (Can) Instafund LaPrima Elite | 0:00:34 |
| 10 | Cassidy Hickey (USA) LUX-CTS p/b Specialized | 0:00:41 |
| 11 | Lisa Houser (USA) Fount Cycling Guild | 0:01:07 |
| 12 | Erica Clevenger (USA) DNA Pro Cycling | 0:01:12 |
| 13 | Claire Cameron (Can) Orion Racing | 0:01:15 |
| 14 | Maeghan Easler (USA) ATX Wolfpack p/b Pro | 0:01:16 |
| 15 | Rylee McMullen (Can) Instafund LaPrima Elite | 0:01:20 |
| 16 | Susej Esqueda (USA) SDBC p/b Bonnici Law | |
| 17 | Cara O'Neill (USA) 3T/Q+M Cycling | 0:01:23 |
| 18 | Rebekah Potter (USA) SDBC p/b Bonnici Law | 0:01:24 |
| 19 | Betsabee Salomon (Can) Orion Racing | |
| 20 | Romina Hinojosa (Mex) ATX Wolfpack p/b Pro | 0:01:28 |
| 21 | Daphne Karagianis (USA) DNA Pro Cycling | |
| 22 | Jacqueline Larouche (USA) 3T/Q+M Cycling | |
| 23 | Marisa Vandersteen Boaz (USA) LUX-CTS p/b Specialized | |
| 24 | Katherine Sarkisov (USA) LUX-CTS p/b Specialized | |
| 25 | Florence Chardon (USA) Fount Cycling Guild | 0:01:32 |
| 26 | Eleanor Wiseman (Bel) Live Play Real Estate | |
| 27 | Camille Primeau (Can) Desjardins-Ford Crom | |
| 28 | Morgan Aguirre (USA) Fount Cycling Guild | |
| 29 | Anna Dorovskikh (USA) Orion Racing | |
| 30 | Rachel Jordan (USA) 3T/Q+M Cycling | 0:01:38 |
| 31 | Holly Henry (Can) Instafund LaPrima Elite | 0:01:40 |
| 32 | Mallory MacRostie (USA) 3T/Q+M Cycling | 0:01:48 |
| 33 | Jazmine Lavergne (Can) Desjardins-Ford Crom | 0:01:55 |
| 34 | Kaitlyn Rauwerda (Can) DNA Pro Cycling | 0:02:00 |
| 35 | Helena Gilbert-Snyder (USA) Live Play Real Estate | 0:02:03 |
| 36 | Lisa Cordova (USA) Live Play Real Estate | |
| 37 | Claudia Ferreira (USA) Live Play Real Estate | 0:02:13 |
| 38 | Kira Payer (USA) DNA Pro Cycling | 0:02:39 |
| 39 | Sarah Van Dam (Can) Red Truck Racing | 0:02:58 |
| 40 | Fiona Majendie (Can) Red Truck Racing | 0:05:10 |
| 41 | Haley Smith (USA) Fount Cycling Guild | |
| 42 | Kaitlyn Agnew (USA) ATX Wolfpack p/b Pro | 0:06:26 |
| 43 | Stefanie Sydlik (USA) 3T/Q+M Cycling | 0:16:23 |
| 44 | Stella Nightingale (NZl) Instafund LaPrima Elite | |
| 45 | Helena Coney (Can) Instafund LaPrima Elite | |
| 46 | Hannah Allen (USA) Fount Cycling Guild | |
| 47 | Olivia Cummins (USA) LUX-CTS p/b Specialized | |
| 48 | Holly Simonson (Can) Red Truck Racing | |
| 49 | Brenna Pauly (Can) Red Truck Racing | |
| 50 | Kimberly Lucie (USA) DNA Pro Cycling | |
| 51 | Mia Manganello Kilburg (USA) DNA Pro Cycling | |
| 52 | Aubrey Drummond (USA) LUX-CTS p/b Specialized | 0:17:25 |
| 53 | Jenna Klein (USA) SDBC p/b Bonnici Law | 0:17:50 |
| 54 | Elizabeth Gin (Can) Desjardins-Ford Crom | 0:17:59 |
| 55 | Jenna Nestman (Can) Fount Cycling Guild | |
| 56 | Katie Aman (USA) 3T/Q+M Cycling | |
| 57 | Leah Thorvilson (USA) 3T/Q+M Cycling | |
| 58 | Kara Lilly (USA) Red Truck Racing | |
| 59 | Caitlin Lovelace (USA) Orion Racing | |
| 60 | Doris Schweizer (Swi) Instafund LaPrima Elite | |
| 61 | Carly Woollard (USA) Orion Racing | |
| 62 | Sofia Schugar (USA) SDBC p/b Bonnici Law | 0:21:23 |
| 63 | Jane Tullis (USA) Red Truck Racing | |
| 64 | Samuelle Baillargeon (Can) Desjardins-Ford Crom | 0:21:36 |
| 65 | Lizbeth Ureno (USA) SDBC p/b Bonnici Law | |
| 66 | Ingrid Smallman (USA) Orion Racing | |
| 67 | Alexa Alarcon (USA) SDBC p/b Bonnici Law | |
| 68 | May Liu (USA) Orion Racing | |
| 69 | Noémie Fortin(Can) Desjardins-Ford Crom | |
| OTL | Amalia Langham (Aus) ATX Wolfpack p/b Pro | 0:26:28 |
| OTL | Justine Thomas (Can) Desjardins-Ford Crom | |
| OTL | Megan Brinkmeyer (USA) Live Play Real Estate | |
| OTL | Shannon Castle (USA) Live Play Real Estate | |
| OTL | Catherine Guentert (USA) Orion Racing | 0:47:11 |
| DNS | Melanie Wong (USA) ATX Wolfpack p/b Pro | |
Sprint 1

| Pos. | Rider Name (Country) Team | Result |
| --- | --- | --- |
| 1 | Diana Penuela (Col) DNA Pro Cycling | 7 |
| 2 | Emily Marcolini (Can) 3T/Q+M Cycling | 5 |
| 3 | Caitlin Conyers BMU LUX-CTS p/b Specialized | 4 |
| 4 | Jennifer Wheeler (USA) Fount Cycling Guild | 3 |
| 5 | Florence Chardon (USA) Fount Cycling Guild | 2 |
Sprint 2

| Pos. | Rider Name (Country) Team | Result |
| --- | --- | --- |
| 1 | Emily Marcolini (Can) 3T/Q+M Cycling | 7 |
| 2 | Diana Penuela (Col) DNA Pro Cycling | 5 |
| 3 | Caitlin Conyers BMU LUX-CTS p/b Specialized | 4 |
| 4 | Jennifer Wheeler (USA) Fount Cycling Guild | 3 |
| 5 | Heidi Franz (USA) Instafund LaPrima Elite | 2 |
Finish

| Pos. | Rider Name (Country) Team | Result |
| --- | --- | --- |
| 1 | Heidi Franz (USA) Instafund LaPrima Elite | 7 |
| 2 | Jennifer Wheeler (USA) Fount Cycling Guild | 5 |
| 3 | Emily Marcolini (Can) 3T/Q+M Cycling | 4 |
| 4 | Diana Penuela (Col) DNA Pro Cycling | 3 |
| 5 | Caitlin Conyers BMU LUX-CTS p/b Specialized | 2 |
General classification after stage 1

| Pos. | Rider Name (Country) Team | Result |
| --- | --- | --- |
| 1 | Heidi Franz (USA) Instafund LaPrima Elite | 1:42:38 |
| 2 | Jennifer Wheeler (USA) Fount Cycling Guild | 0:00:05 |
| 3 | Emily Marcolini (Can) 3T/Q+M Cycling | |
| 4 | Diana Penuela (Col) DNA Pro Cycling | 0:00:16 |
| 5 | Caitlin Conyers BMU LUX-CTS p/b Specialized | 0:00:21 |
| 6 | Maddy Ward (USA) Instafund LaPrima Elite | 0:00:27 |
| 7 | Haley Smith (USA) ATX Wolfpack p/b Pro | 0:00:29 |
| 8 | Anet Barrera (Mex) DNA Pro Cycling | 0:00:33 |
| 9 | Isabella Bertold (Can) Instafund LaPrima Elite | 0:00:45 |
| 10 | Cassidy Hickey (USA) LUX-CTS p/b Specialized | 0:00:52 |
| 11 | Lisa Houser (USA) Fount Cycling Guild | 0:01:18 |
| 12 | Erica Clevenger (USA) DNA Pro Cycling | 0:01:23 |
| 13 | Claire Cameron (Can) Orion Racing | 0:01:26 |
| 14 | Maeghan Easler (USA) ATX Wolfpack p/b Pro | 0:01:27 |
| 15 | Rylee McMullen (Can) Instafund LaPrima Elite | 0:01:31 |
| 16 | Susej Esqueda (USA) SDBC p/b Bonnici Law | |
| 17 | Cara O'Neill (USA) 3T/Q+M Cycling | 0:01:34 |
| 18 | Rebekah Potter (USA) SDBC p/b Bonnici Law | 0:01:35 |
| 19 | Betsabee Salomon (Can) Orion Racing | |
| 20 | Romina Hinojosa (Mex) ATX Wolfpack p/b Pro | 0:01:39 |
| 21 | Daphne Karagianis (USA) DNA Pro Cycling | |
| 22 | Jacqueline Larouche (USA) 3T/Q+M Cycling | |
| 23 | Marisa Vandersteen Boaz (USA) LUX-CTS p/b Specialized | |
| 24 | Katherine Sarkisov (USA) LUX-CTS p/b Specialized | |
| 25 | Florence Chardon (USA) Fount Cycling Guild | 0:01:43 |
| 26 | Eleanor Wiseman (Bel) Live Play Real Estate | |
| 27 | Camille Primeau (Can) Desjardins-Ford Crom | |
| 28 | Morgan Aguirre (USA) Fount Cycling Guild | |
| 29 | Anna Dorovskikh (USA) Orion Racing | |
| 30 | Rachel Jordan (USA) 3T/Q+M Cycling | 0:01:49 |
| 31 | Holly Henry (Can) Instafund LaPrima Elite | 0:01:51 |
| 32 | Mallory MacRostie (USA) 3T/Q+M Cycling | 0:01:59 |
| 33 | Jazmine Lavergne (Can) Desjardins-Ford Crom | 0:02:06 |
| 34 | Kaitlyn Rauwerda (Can) DNA Pro Cycling | 0:02:11 |
| 35 | Helena Gilbert-Snyder (USA) Live Play Real Estate | 0:02:14 |
| 36 | Lisa Cordova (USA) Live Play Real Estate | |
| 37 | Claudia Ferreira (USA) Live Play Real Estate | 0:02:24 |
| 38 | Kira Payer (USA) DNA Pro Cycling | 0:02:50 |
| 39 | Sarah Van Dam (Can) Red Truck Racing | 0:03:09 |
| 40 | Fiona Majendie (Can) Red Truck Racing | 0:05:21 |
| 41 | Haley Smith (USA) Fount Cycling Guild | |
| 42 | Kaitlyn Agnew (USA) ATX Wolfpack p/b Pro | 0:06:37 |
| 43 | Stefanie Sydlik (USA) 3T/Q+M Cycling | 0:16:34 |
| 44 | Stella Nightingale (NZl) Instafund LaPrima Elite | |
| 45 | Helena Coney (Can) Instafund LaPrima Elite | |
| 46 | Hannah Allen (USA) Fount Cycling Guild | |
| 47 | Olivia Cummins (USA) LUX-CTS p/b Specialized | |
| 48 | Holly Simonson (Can) Red Truck Racing | |
| 49 | Brenna Pauly (Can) Red Truck Racing | |
| 50 | Kimberly Lucie (USA) DNA Pro Cycling | |
| 51 | Mia Manganello Kilburg (USA) DNA Pro Cycling | |
| 52 | Aubrey Drummond (USA) LUX-CTS p/b Specialized | 0:17:36 |
| 53 | Jenna Klein (USA) SDBC p/b Bonnici Law | 0:18:01 |
| 54 | Elizabeth Gin (Can) Desjardins-Ford Crom | 0:18:10 |
| 55 | Jenna Nestman (Can) Fount Cycling Guild | |
| 56 | Katie Aman (USA) 3T/Q+M Cycling | |
| 57 | Leah Thorvilson (USA) 3T/Q+M Cycling | |
| 58 | Kara Lilly (USA) Red Truck Racing | |
| 59 | Caitlin Lovelace (USA) Orion Racing | |
| 60 | Doris Schweizer (Swi) Instafund LaPrima Elite | |
| 61 | Carly Woollard (USA) Orion Racing | |
| 62 | Sofia Schugar (USA) SDBC p/b Bonnici Law | 0:21:34 |
| 63 | Jane Tullis (USA) Red Truck Racing | |
| 64 | Samuelle Baillargeon (Can) Desjardins-Ford Crom | 0:21:47 |
| 65 | Lizbeth Ureno (USA) SDBC p/b Bonnici Law | |
| 66 | Ingrid Smallman (USA) Orion Racing | |
| 67 | Alexa Alarcon (USA) SDBC p/b Bonnici Law | |
| 68 | May Liu (USA) Orion Racing | |
| 69 | Noémie Fortin(Can) Desjardins-Ford Crom | |
Points classification

| Pos. | Rider Name (Country) Team | Result |
| --- | --- | --- |
| 1 | Emily Marcolini (Can) 3T/Q+M Cycling | 16 |
| 2 | Diana Penuela (Col) DNA Pro Cycling | 15 |
| 3 | Jennifer Wheeler (USA) Fount Cycling Guild | 11 |
| 4 | Caitlin Conyers BMU LUX-CTS p/b Specialized | 10 |
| 5 | Heidi Franz (USA) Instafund LaPrima Elite | 9 |
| 6 | Florence Chardon (USA) Fount Cycling Guild | 2 |
Teams classification

| Pos. | Rider Name (Country) Team | Result |
| --- | --- | --- |
| 1 | Instafund LaPrima Elite W | 5:09:19 |
| 2 | DNA Pro Cycling Team | 0:00:47 |
| 3 | LUX-CTS p/b Specialized | 0:01:27 |
| 4 | Fount Cycling Guild | 0:01:47 |
| 5 | 3T/Q+M Cycling | 0:02:00 |
| 6 | ATX Wolfpack p/b ProBikeK | 0:02:10 |
| 7 | Orion Racing p/b Borah Te | 0:03:19 |
| 8 | Live Play Real Estate | 0:04:46 |
| 9 | SDBC p/b Bonnici Law Grou | 0:19:42 |
| 10 | Desjardins-Ford Cromwell | 0:20:34 |
| 11 | Red Truck Racing p/b Mosa | 0:23:39 |
[ad_2]