[ad_1]

13 Healthy Fish Recipes for Lent
What are healthy fish recipes for in Lent? Sorry no fried fish here – but Crispy Cornmeal Fish Sticks and Lemon, Basil and Quinoa Stuffed Peppers with Marinated Shrimp are big crowd pleasers on #FishFriday or any day.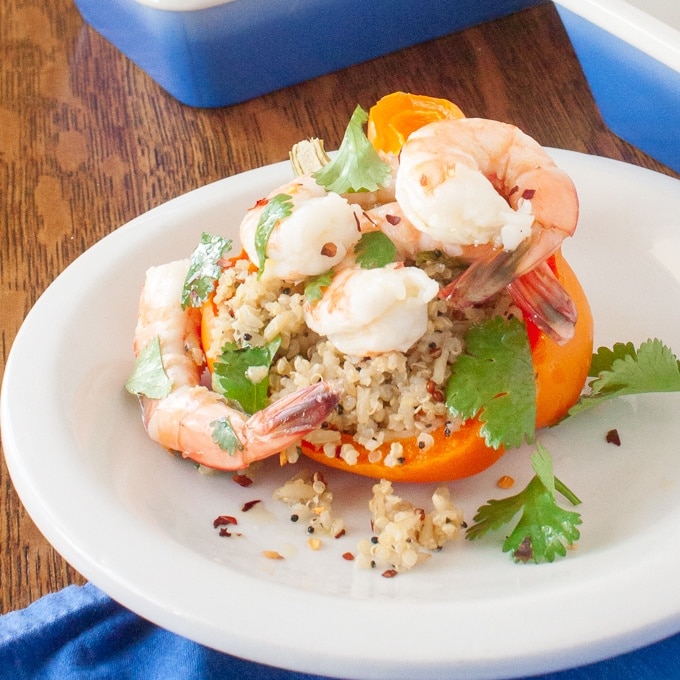 [Disclosure: ALDI compensated me to write this post. Opinions and thoughts are my own – and it's no secret that I'm an ALDI shopper – and a huge ALDI Finds fan!]
…that's good news – because the benefits for your heart and your brain can be big. ALDI has everything you need to prepare Lenten meals, including quality seafood at prices you'll enjoy all year long. Make ALDI your one-stop shop for high-quality, nutritious Lent choices that won't break the bank.
But if you are A) confused about buying sustainable seafood or B) not sure how to cook it…
I can help you with both.
Sustainable seafood shopping for #FishFriday :
ALDI makes finding sustainable seafood simple. ALDI offers Fresh Never Frozen fish, including Atlantic salmon and tilapia, in stores every day.
ALDI works with Sustainable Fisheries Partnership to assess the sustainability of their fish and seafood products. They source seafood products from responsibly-managed fisheries and farms that have minimal impacts on the environment.
Seafood can be pricy. But at ALDI, I know I'm getting high-quality seafood at an affordable price.

Easy ways to cook fish for Lent #FishFriday – or any day:
Use a thermometer. Fish is done when it reaches 145° F. This is a much lower temperature than you may think (meat is done at 165°F.) When fish "flakes easily," it's often overdone! This year I got an inexpensive meat thermometer; and I use it every time I cook fish.
Grill fish on lemons. Not only do the slices of lemon infuse fish with yummy flavors, but they keep fish fillets from tearing when removing them from the grill. Plus they make grill clean-up a snap. See me making Grilled Citrus & Herb Salmon in this recent segment with ALDI on FOX2Now The Morning Show.
Make it familiar. Tacos are a family-favorite at my house. So I make them a lot. Not only do my kids love them – but I'm used to cooking them. So it's not a stretch for me to just add some grilled shrimp, like in this recipe for Margarita Grilled Shrimp Tacos. Making a whole casserole-dish of stuffed peppers is also familiar – so I just add a 3-minute sauté of shrimp when making Lemon, Basil and Quinoa Stuffed Peppers with Marinated Shrimp – THESE ARE THE PHOTOS IN THIS POST!
Just add tuna or cooked shrimp. Add Northern Catch Canned Tuna to this Mexican inspired Sweet Potato Salad. And – here's a shocker – you may be surprised how yummy a tin of Northern Catch Sardines in Mustard Sauce is! I could not believe my teen daughter asked for them in her lunch – after we tried them one day with crackers.  
#ad 13 Healthy Fish Recipes for Lent – or ANY day! Plus the scoop on #sustainable seafood @TspCurry Click To TweetOther fish dishes to try from ALDI:
And some of our favorite recipes from Teaspoon of Spice for #FishFriday :
And now, for those of you who may already be ALDI shoppers: don't you just love the 'ALDI Finds' aisle? This section of the store has nearly 100 unique products every week, which are limited-edition premium foods or other goods at unbeatable prices. I found these beautiful blue casserole dishes (see above!) there this week. But you have to get them before they're gone. A true #shoppinglover bonanza. (:
What are your favorite ways to eat #FishFriday? What are some of your favorite ALDI Finds?


[ad_2]