[ad_1]
I love pasta and fancied making a creamy pasta dish using mushrooms and spinach. I had lots of each to use up (I bought lots reduced!) so this garlic mushroom and spinach pasta bake is what I came up with and it was delicious!
Jump to:
I try to ensure all of the recipes I make are accessible to everyone. By this, I mean that they do not use obscure hard to find ingredients. I also believe that recipes should use as few ingredients as possible and avoid expensive ingredients. We would all much rather spend money on holidays than expensive ingredients wouldn't we?
Buying herbs and spices in bulk is something I really recommend. It can save a lot of money in the long term but also mean you never run out! I find putting them on Amazon subscribe and save helps too!
Shopping around to see which shops have offers on your usual products can make a big difference to your weekly shopping bill. Additionally don't forget to check out the yellow sticker reductions and freeze what you can.
Frozen vegetables are nutritionally just as good as fresh usually so do keep an eye for those too to save money. Do you have any particular frozen vegetables you love? Do share them with me it is always nice to hear of people's recommendations.
This recipe is easily made with frozen spinach if you prefer as it is often much cheaper. Frozen mushrooms are not as good as tend to be quite watery but if you drain off the water when cooked they would be just as good.
Why you need vegetables to lose weight
Everyone knows vegetables are good for you, don't they? From being a young child you are told to eat your veggies to grow big and strong!
If you follow the Slimming World diet you will instantly know what I am talking about when I say speed vegetables. On other plans, it could be considered a free extra or just classed as non-starchy vegetables.
Whatever it is referred to you need to eat veggies to lose weight, on the whole, because they are healthy and filling for very few calories! You can try swapping things like potatoes for butternut squash and add fried onions or mushrooms to other meals.
Check out my ready-made meal plans to help you along the way with lots of my delicious healthy recipes perfect for any diet, weight loss plan or just a healthy lifestyle!
Remember to keep a check on the vitamins and minerals you consume and ensure you are eating a healthy amount of everything including calcium, vitamin c, iron, vitamin d, vitamin b12 and fibre as well as eating plenty of vegetables and fruit!
How many vegetables should I eat?
Most healthy diets and weight loss plans encourage you to eat lots of fruit and vegetables. Slimming World for example advises you to ensure that ⅓ of every meal is made up of speed foods. Other than possibly for breakfast this is likely to be vegetables! Even if you do not follow Slimming World this is still great advice for healthy living. Other plans suggest different methods of deciding on the food on your plate but all diets I have seen include a large number of vegetables.
The best vegetables are those that have a low-calorie density. Slimming World call these speed foods, other diets say non-starchy vegetables or other similar phrases. Basically, we are talking about the healthier vegetables – potatoes don't count but butternut squash is much healthier for example!
This means if you eat 100g of spinach, for example, it is just 23 calories and obviously, 100g of anything would fill you up significantly. On the other hand, 100g of crisps, which would be just as filling, is around 536 calories!
What nutrients are in vegetables?
Whether you follow Slimming World, Weight Watchers, Noom, or any other diet, adding vegetables to your meal not only adds vitamin C and all the other nutrients that vegetables contain but will also help you lead a more balanced healthy lifestyle and potentially lose weight!
Many vegetables are also high in B vitamins, vitamin A, iron and other nutrients.
Don't forget too that vegetables are high in fibre and as such you are less likely to get constipation and need my constipation tips!
Are frozen or canned vegetables healthy?
As long as they are not cooked or canned in any oil etc, frozen or canned vegetables have roughly the same nutritional value as of fresh vegetables and are a great way to save money and time.
If you buy vegetables that have been reduced at the end of the day you can always freeze them to use in a recipe in the future.
What is Quark?
It is a soft cheese made with skimmed milk. It's rather like Philadelphia in its consistency and, due to the fat-free aspect of it, there is little flavour. Because of this, quark on its own is not often enjoyed.
The truth is that it does not taste great on its own without any flavourings and so people think they don't like it! Having it with a little sweetener and some fruit like strawberries is delicious!
You can't taste it in my mushroom pate recipe and I also use it to make a lasagne cheese sauce. It is great when you know how to use it best.
How can quark be used
Quark is, due to its limited flavour, very versatile and useful in some great recipes. I frequently use it in both sweet and savoury recipes and share a variety of my favourite quark recipes here.
I often use quark in recipes in my ready-made meal plans to help you to find ways you can enjoy using it so do check them out.
When buying quark do keep an eye out for flavoured varieties as, although they taste nicer from the carton, they usually are a little higher in calories so could be synned or pointed on weight loss plans. It is usually much better to flavour it yourself.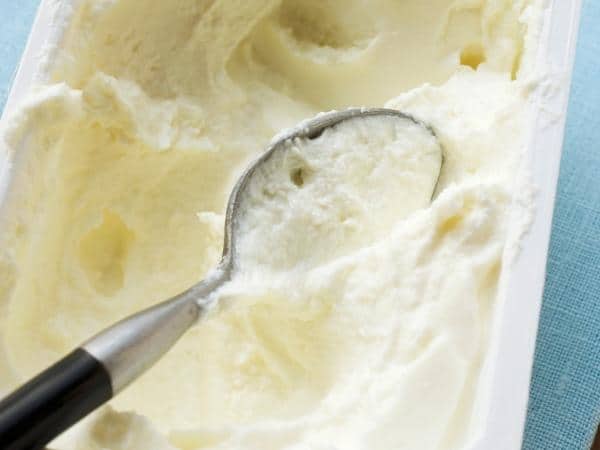 More Slimming World recipes you might like
For more pasta-based recipes for all the family check out my ultimate pasta recipe post.
If this has made you realise you should use quark more and are looking for more recipes with it check out my ultimate quark recipe list here.
If you are vegetarian or want to eat more vegetarian or plant-based meals I have a full list of vegetarian and vegan recipes which are perfect on Slimming World here.
Weight loss Guides
I have a lot of Unofficial Slimming World guides and weight loss information along with support if you want to exercise for weight loss including if you have a condition like fibromyalgia.
Have a good look around and see how I can help you achieve your weight loss goals. Request my free resources to get you started too!
Here are some quick jump buttons to help you find my most popular Slimming World guides (all unofficial) and be sure to check out all my healthy recipes too.
Print
Recipe
Garlic Mushroom and Spinach Pasta Bake
Author:

JustAverageJen

Prep Time:

25 ,minutes

Cook Time:

30 minutes

Total Time:

39 minute

Yield:

4

Portions

1

x

Category:

Main meal

Method:

Hob and Oven

Cuisine:

Italian

Diet:

Low Calorie
---
Description
A tasty garlic mushroom and spinach pasta bake recipe which is full of flavour and so tasty. You can also cook it dirrectly in the pan for a quicker option.
---
---
Instructions
1. Preheat the oven to 200'c and boil pasta in a large pan according to packet instructions and drain.
2. Meanwhile spray a frying pan with low calorie cooking spray and fry the garlic, onion and mushrooms until tender but not too soft as they will cook further in the oven.
3. Make the stock using the 200ml of boiling water and stock pot.
4. In a large ovenproof dish mix together the cooked pasta, the onion, garlic and mushrooms from the frying pan, the quark, the baby spinach, the stock, and 120g of the cheese.
5. Sprinkle the remaining 60g of cheese over the top and bake in the oven for 30 minutes or until golden on top and hot throughout.
---
---
Keywords: Slimming World, pasta, syn free, low syn
Recipe Card powered by
My amazing freebies
I know how hard it can sometimes be to stick to a plan and follow a new routine. Planning is key so here are some weight loss resources that should really help you with that.
[ad_2]