[ad_1]

These moist, fluffy muffins are packed with fruits and veggies and are loved by toddlers, kids and even adults! The whole grain base is combined with creamy yogurt, 3 different veggies 2 fruits and swirled with the delicious flavors of cinnamon and nutmeg.
*Recipe and Post Updated June 2022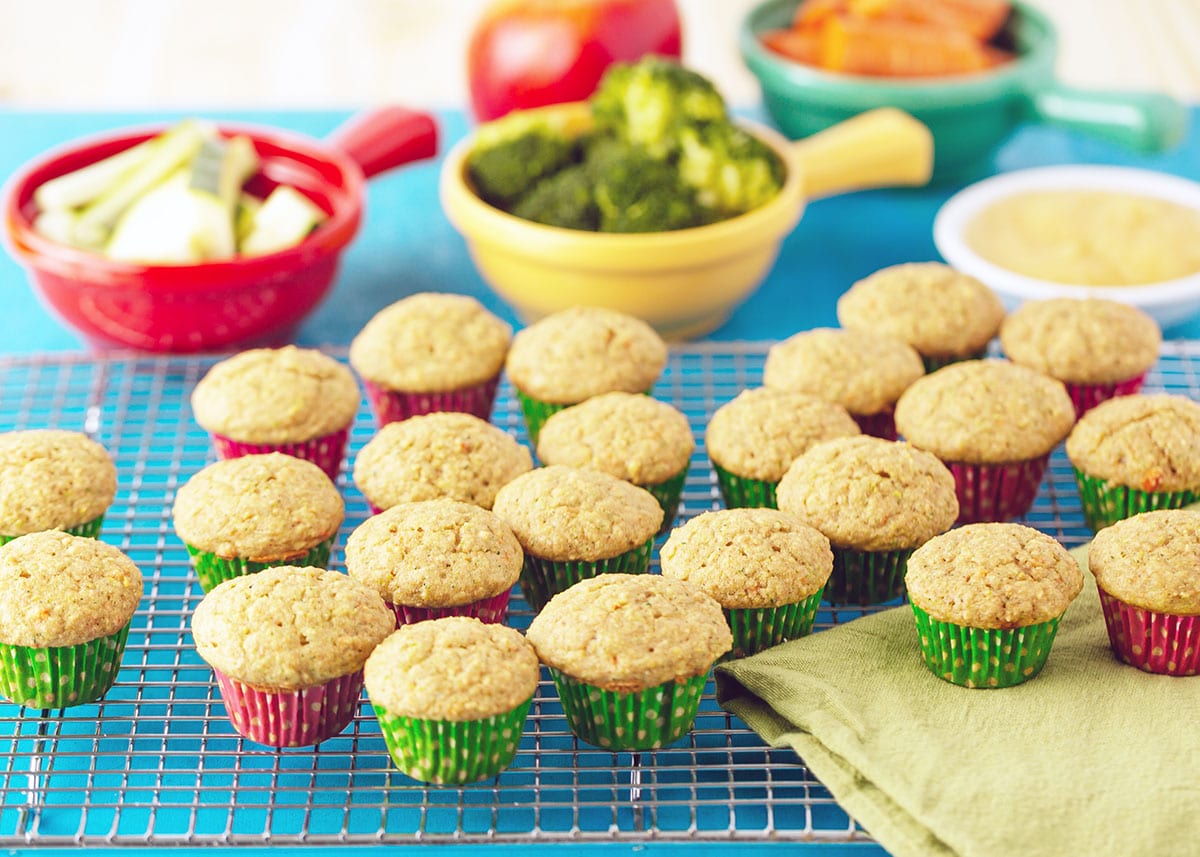 Healthy Muffins for Picky Eaters
Almost every day I get a parent that writes to me about their picky eater.  As a parent, sometimes getting your child to eat anything, let alone eat healthy food, can be very stressful!
While I am a big proponent of teaching your children to love healthy food, especially fruits and vegetables, sometimes you have to have a backup plan.
These Fruit and Veggie Muffins are the perfect back up plan when you have those days where your picky eater just won't eat anything!  Packed with fruits, veggies  (like broccoli, zucchini, and carrots) and whole grains, you can be sure your little one gets a whole lot of nutrition in one little muffin!  
A lot of times, the way a food is presented or 'packaged' can influence if your child wants to eat it or not. When I made these muffins, I told my girls they were princess cupcakes.  The rest is history.  They each downed one hot out of the oven because they couldn't wait to try a princess cupcake.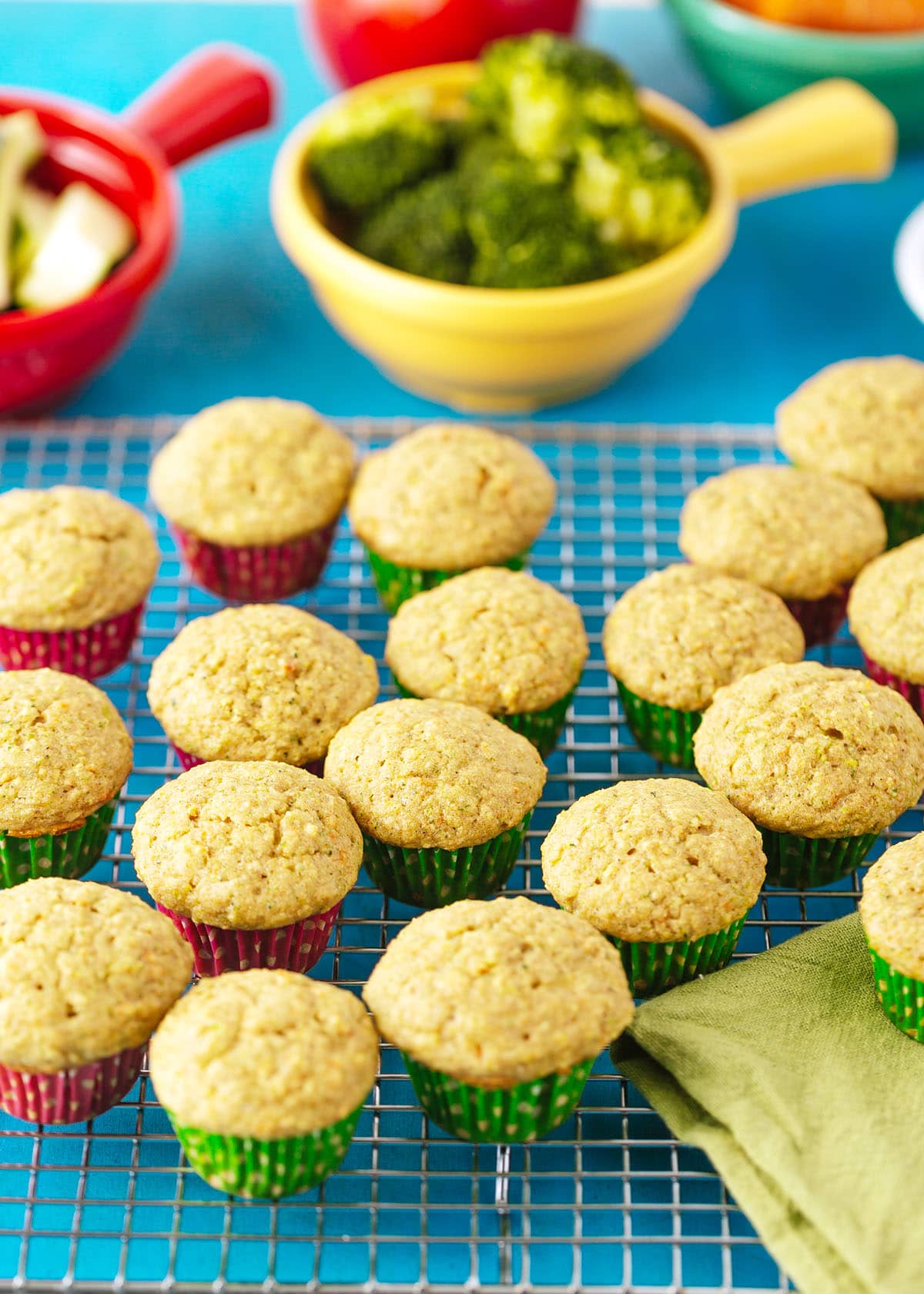 How Do Fruit and Veggie Muffins Taste?
You might think with as many fruit and veggies in these muffins that there is no way on Earth they could taste good! Even when I was mixing up the batter I was still a little skeptical, and the batter does look a little crazy. But these muffins are out of this world delicious! They have a buttery sweet flavor and are super moist.
My kids help me make them and know exactly what is in them, but don't mind at all because they taste so good. A lot of times kids don't like fruits and veggies because of texture and not necessarily flavor. All of the fruits and veggies in these muffins are chopped so fine that the texture isn't an issue!
Whenever I make these, I always make regular size muffins as well as mini muffins.  My older kids like to eat the regular size muffins, but for my littles the mini muffins are the perfect size. These freeze really well, and are great reheated with just 30 seconds in the microwave.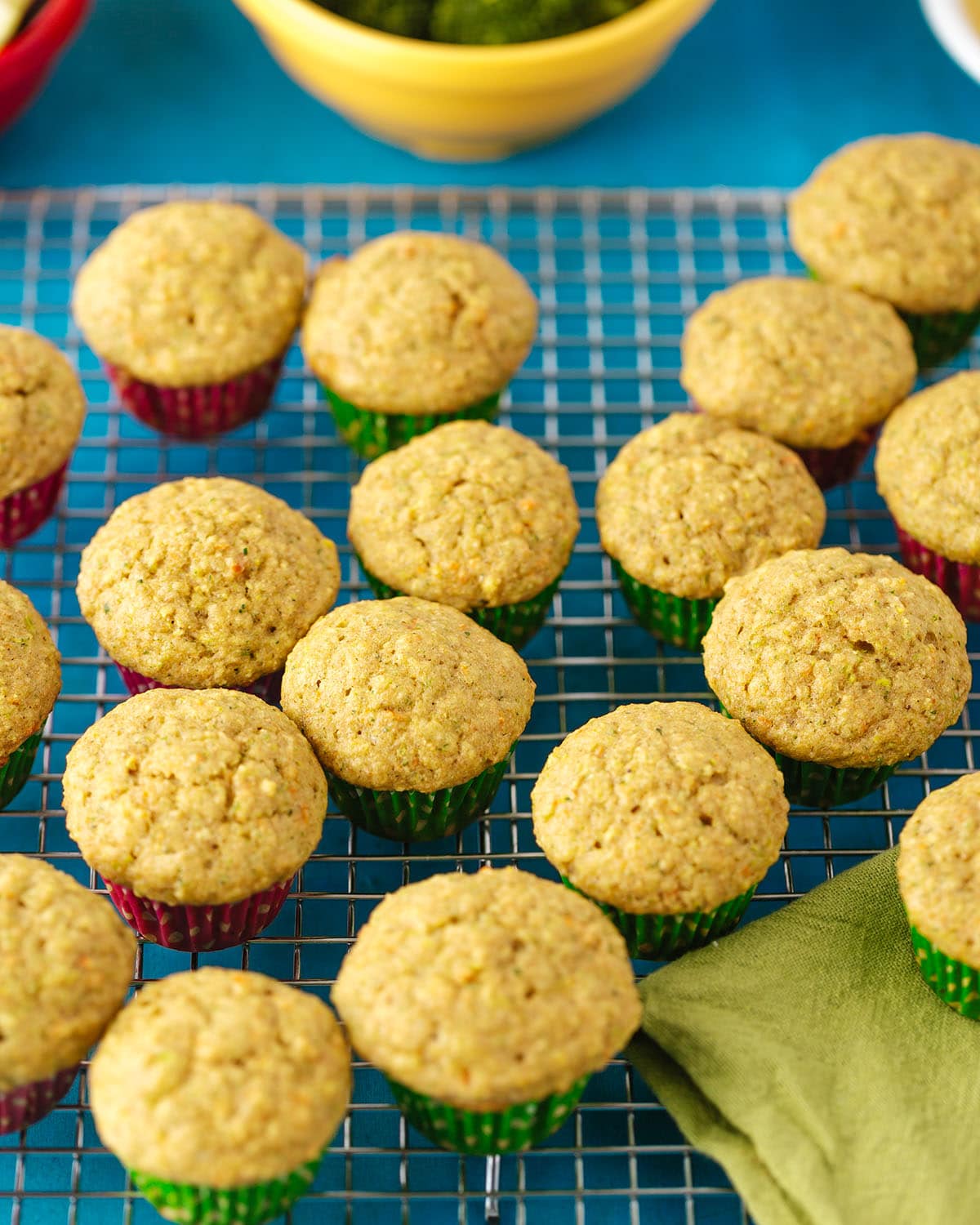 How to Make Fruit and Veggie Muffins
This is one of the most popular recipes on our site.  Thousands of people have made these muffins and raved about how much their kids love them.  There are a lot of people who have said that their muffins haven't cooked all the way through.  I have tested and retested these muffins and these are my best tips to make sure they turn out for you:
Make sure you use the fruits and veggies that are included in this recipe.   I know there are lots of other fruits and vegetables out there that would be delicious in this recipe, but I have not tested them and so I don't really know how they react in the recipe.  The moisture content of the fruits and vegetables will make a difference as to how well the muffin will cook.
If you are making regular size muffins, don't use muffin liners, just bake directly in your muffin tin.   If you bake with a liner, it takes a lot longer baking time, and even then the bottom still sometimes ends up a bit wet.
Only fill your muffin tins 3/4 of the way full.
Make sure your broccoli and zucchini are steamed.  You will want the zucchini you use to be on the smaller size – the larger size zucchini have a lot more water and this recipe doesn't take that into account.
When you blend all of the produce together, it will look slightly like baby food, or pesto……don't be scared. If you don't like carrot shreds in your muffins then blend the carrots with everything else.
You don't have to puree the carrots, you can shred them. I think shredded carrots look so pretty in a muffin.  I grated them with a fine grate and put them in after everything had blended.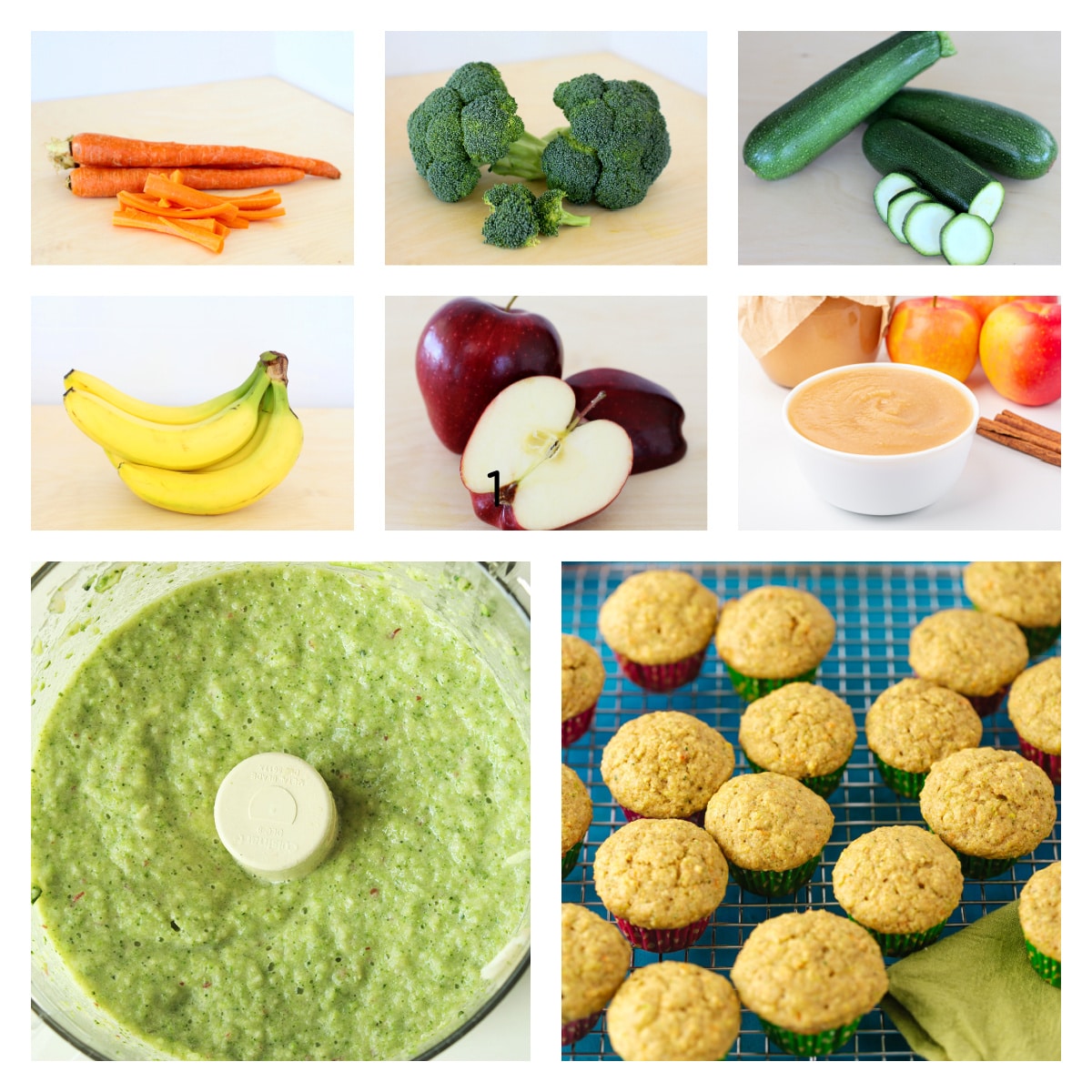 Ingredients in Fruit and Veggie Muffins
Flour – I recommend using half whole wheat and half all-purpose flour in these muffins to give them the nutrition of whole grain, and the texture of a lighter more fluffy muffin.
Broccoli – use fresh broccoli for this recipe. Frozen has too much liquid and will make your muffin too gooey.
Zucchini – small zucchini works best for this recipe.
Carrots – regular carrots (not baby carrots) are what you will need.
Bananas – the more ripe the better to add natural sweetness!
Apples – you can use whatever type of apples you have on hand for these muffins. You will also need applesauce – I recommend unsweetened.
Greek Yogurt – plain Greek yogurt – you can use full fat, or lower fat.
Butter – adds moisture and that amazing buttery flavor that makes bakery muffins so delicious.
Spices – nutmeg and cinnamon add a warm, rich flavor to these muffins.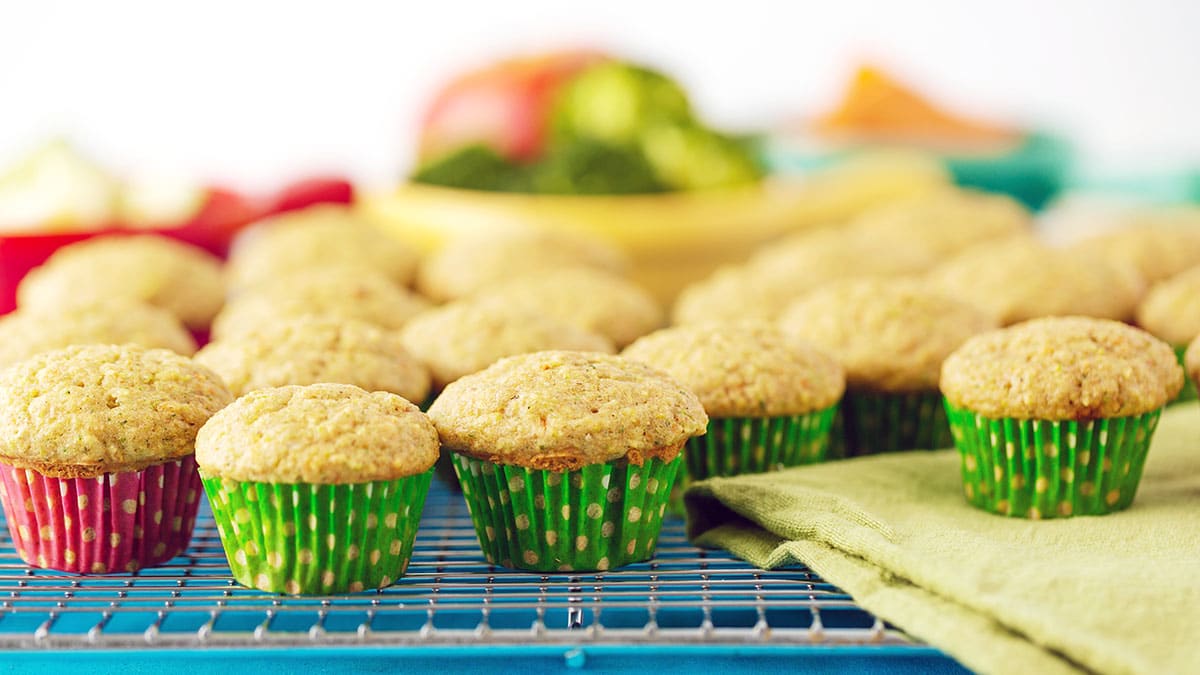 Frequently Asked Questions about Fruit and Veggie Muffins
Are you supposed to steam the veggies first?
Only the broccoli. The other veggies can be added raw.
Can I substitute honey for the sugar?
Yes – you can use honey or maple syrup as a sugar replacement. The flavor will be slightly different depending on what you use.
Can you leave the yogurt out?
You will need to replace the yogurt with either equal amounts of applesauce, banana, or add silken tofu for the added moisture.
Do these need to be stored in the fridge?
No, once the muffins are baked, they can be stored at room temperature. You can store them in the fridge or the freezer in an airtight container for longer storage.
Can I replace the egg with a flax egg?
Yes! Quite a few readers have used a 'flax egg' as a substitute and had good success in this recipe.
Can I use a blender instead of a food processor?
It depends – if you have a high powered blender, the puree may become too liquidy in a blender. If you can pulse the mixer in your blender into a thicker puree then it should work.
If I have leftover puree, can I freeze it and use in the future?
You can definitely freeze the puree and use it for a future batch of muffins. I would recommend letting it thaw completely before using and remeasure it before adding to your muffin batter.
The muffins are sticking to my muffin papers – what should I do?
For these muffins, I recommend either using silicone muffin cups, or not papers at all and spraying your muffin tin with a non-stick cooking spray.
Can I substitute other veggies in the puree?
I haven't tried these muffins with other veggies outside what is called for in this recipe. Other readers have tried and have had problems with the muffins cooking through. I would recommend sticking to the veggies that are called for.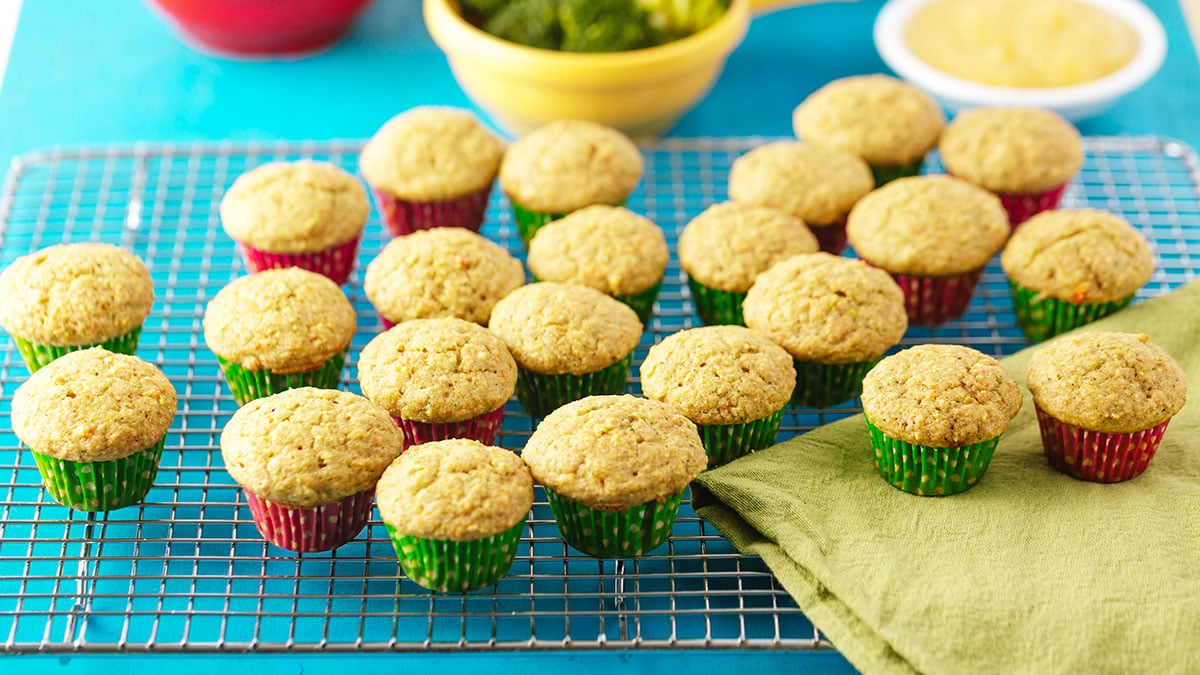 More Healthy Muffin Recipes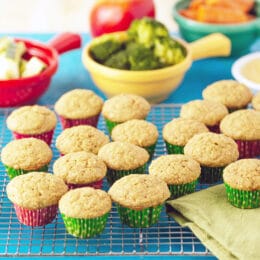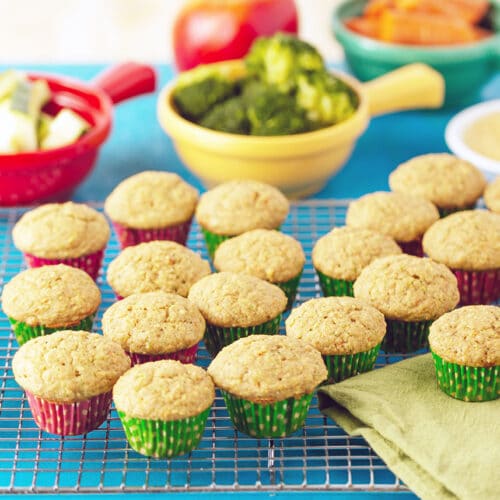 Preheat oven to 375 degrees F.

In a medium size bowl, mix together flours, baking soda, salt, nutmeg, and cinnamon. Set aside.

In a mixer or another bowl, mix the sugar, softened butter, eggs, vanilla and Greek yogurt. Beat well.

Steam broccoli until fork tender. Shred zucchini and squeeze with a dry towel to remove extra liquid. Shred carrots.

In a food processor, combine steamed broccoli, shredded zucchini and carrots, apple, banana, and applesauce.  Pulse until thoroughly mixed to a thick puree.

Combine the fruit and veggie puree into the wet ingredient mixture and beat until mixed.

Finally, add the dry ingredients and mix just until combined and wet.

Spray muffin tin with cooking spray or use silicone muffin cups.

Scoop the mixture into a prepared muffin pan.  Fill each cup about 3/4 of the way full.

For mini muffins: Bake in a 375° F oven for 15-20 minutes for mini-muffins

For regular size muffins: Bake in a 375° F degree oven for about 20-25 minutes.

Bake until the tops are slightly brown and a toothpick comes out clean or they bounce back when you touch them with your finger.
*If you don't want carrot and zucchini shreds in your muffins, you can steam them with the broccoli and then puree them.  
Serving: 1mini muffin | Calories: 77kcal | Carbohydrates: 13g | Protein: 2g | Fat: 2g | Saturated Fat: 1g | Polyunsaturated Fat: 1g | Monounsaturated Fat: 1g | Trans Fat: 1g | Cholesterol: 18mg | Sodium: 103mg | Potassium: 62mg | Fiber: 1g | Sugar: 5g | Vitamin A: 640IU | Vitamin C: 3mg | Calcium: 10mg | Iron: 1mg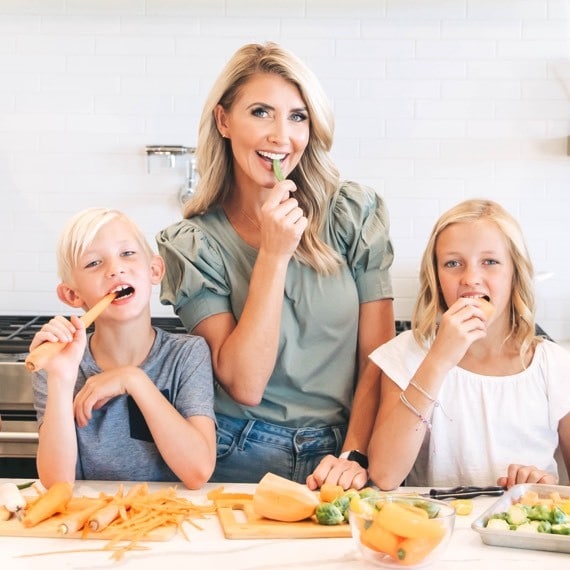 Natalie Monson
I'm a registered dietitian, mom of 4, avid lover of food and strong promoter of healthy habits. Here you will find lots of delicious recipes full of fruits and veggies, tips for getting your kids to eat better and become intuitive eaters and lots of resources for feeding your family.
[ad_2]