[ad_1]

Transformation of the Day: Champagne lost 30 pounds by working out consistently and tracking her macros and caloric intake. During her journey, she found that exercising helped reduce her anxiety/panic attacks.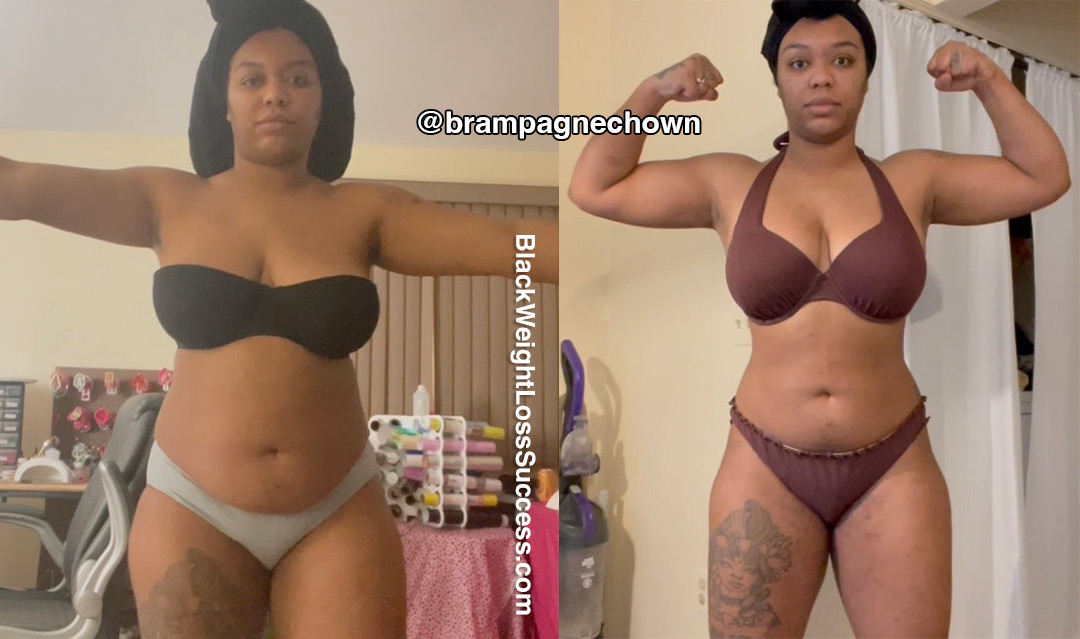 What was your motivation? What inspired you to keep going, even when you wanted to give up?
I deal with anxiety/panic disorder, and I noticed that my eating habits directly contributed to the amount of anxiety I was feeling on a daily basis. I also wanted to get into shape for an upcoming trip with my husband. 
In 2019, I weighed 220 pounds. I would cycle diet, but I never took anything super seriously until Jan 2022. Once I returned to the gym, I realized exercise did wonders for my anxiety – so much so that I went from having panic attacks almost 2-3 times a week to virtually none at ALL. So I kept going back because of what working out did for my mind first. 
How did you change your eating habits?
I decided to start tracking my calories using the app Lifesum and entered a caloric deficit to lose fat. The cool thing is that it's all about balance. You don't have to restrict any of the foods you like. You just have to make sure they fit into your daily and weekly goals for calories and macros! 
What did your workout routine consist of? How often did you work out?
My goal was to body recomp – which means I wanted to lose fat and gain muscle simultaneously. I started working out three times a week for the first three weeks to get myself in the routine of going and being consistent (again). From there (at week 4), I purchased a strength training program from a fitness influencer who I'd been following for a while! I now strength train six days a week and sprinkle in cardo 2-3 times a week! 
What was your starting weight? What is your current weight?
My starting weight in 2019 was 220 pounds. After doing Keto in 2019, I was able to lose 20 pounds and keep it off. So, at the beginning of this year, I weighed 202.3 pounds, and my current weight is 190.1 pounds.
What is your height?
I'm 5 feet, 5 inches tall.
When did you start your journey? How long did your transformation take?
I restarted my journey on 1/8/22, and my transformation is still in progress as I continue to train, but my heaviest (pictured) was 220LBS. As stated, I briefly did Keto, which helped me lose 20 pounds in 2019, but I stopped as it wasn't sustainable for me.
Is weight loss surgery part of your journey?
No, That's not a part of my journey.
What is the biggest lesson you've learned so far?
I learned that it's never too late to go back and restart. I also learned that consistency pays off. You get back exactly what you put into yourself – and that's a lesson that applies not only in the gym but in everyday life!
What advice do you have for women who want to lose weight?
Love yourself enough to do it for yourself. When I quit working out in 2019, it was because I hated myself and hated my body. I didn't think I could achieve my fitness goals. Self-hate stopped me for too long. However, once I learned to love the body I was given, I re-entered the gym with a confidence I never had before, and I started to treat my body and mind so much better.
Instagram: @brampagnechown
TikTok / Fitness Vlog: @brampdaddy


[ad_2]