[ad_1]

This Breakfast Egg Cups Recipe is the perfect breakfast on-the-go. Make them ahead of time, refrigerate or freeze them, and then heat them in the microwave when you are ready to eat.
Get lots more ideas for kick-starting your kids' days in our roundup of 28 High Protein Breakfasts.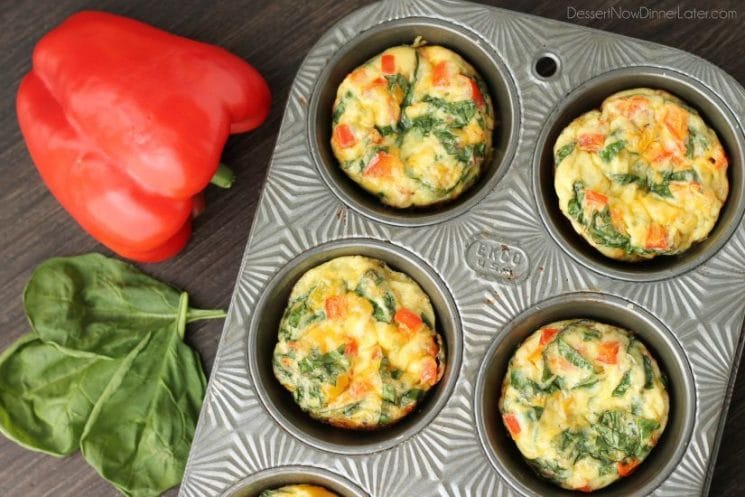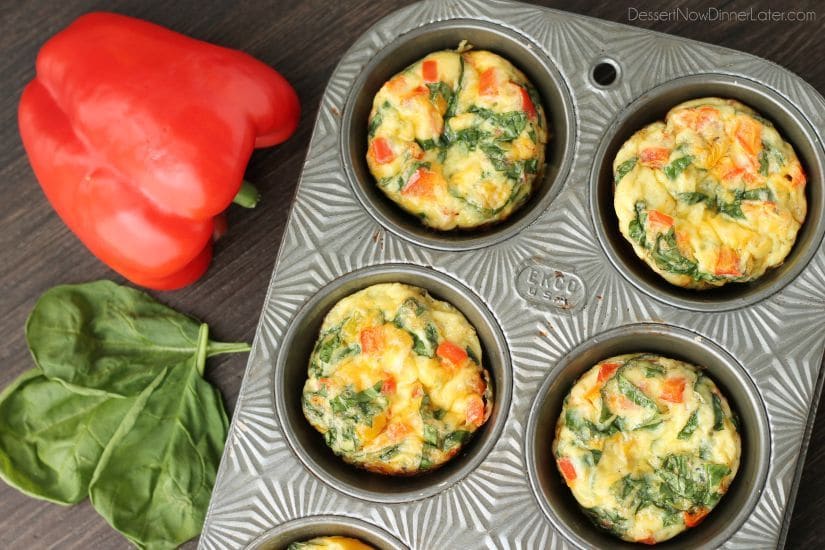 Is school starting already?! Didn't summer just begin?! I guess it's time to start thinking about some fast breakfasts for those crazy school day mornings.
I have a first grader, preschooler, and 2 month old baby. My husband leaves for work before we get up, so I am on my own to get the kids ready. Mornings are a bit tricky to say the least.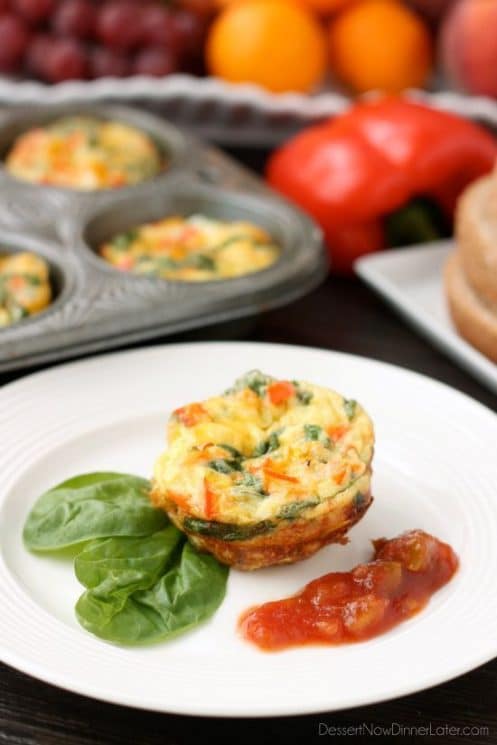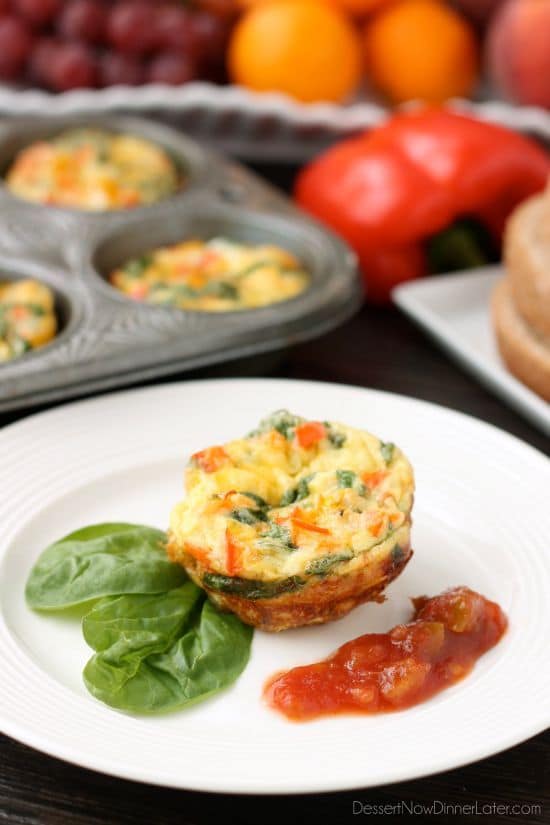 Since my kids are so young, and it's a 3-to-1 battle on school mornings, I am all for prepping anything I can the night/weekend before. Saturday's pancakes become weekday breakfasts. Sandwiches are made for lunch the night before, and these breakfast egg cups can be made and refrigerated or frozen ahead of time as well.  Perfect for those busy school day mornings!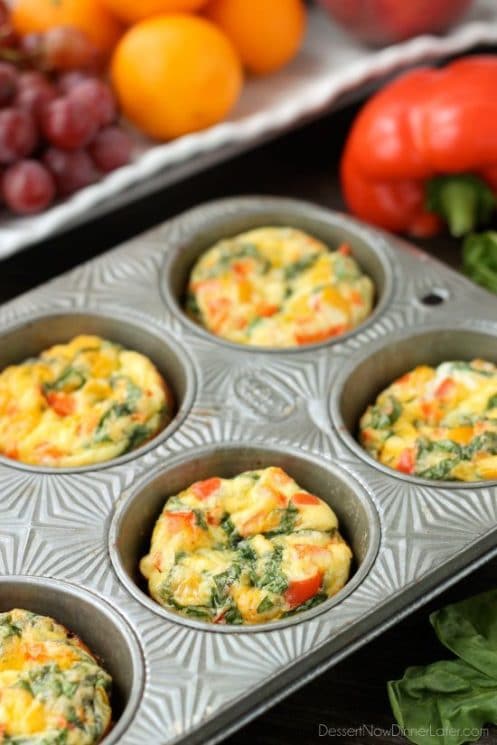 Leftover veggies will never go to waste if you use them in these breakfast egg cups. I used a red bell pepper and spinach for the bright colors. I think it gives these egg muffins a "confetti" look. After all, we eat with our eyes and kids are drawn to the bright colors. A little sprinkle of cheese is delicious too!
Our favorite way to eat these breakfast egg cups is with salsa or ketchup, but you can totally heat and eat them on the go! Everything is portioned out and ready to munch on. You can also serve them on a colorful muffin liner. You should definitely add these to your breakfast menu!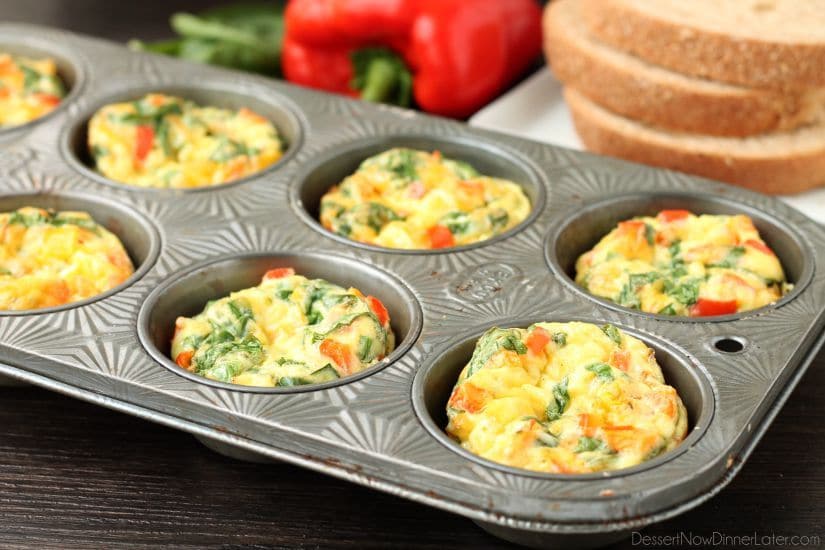 Can You Eat Eggs Every Day?
Eggs have gotten a bad reputation over the years because they contain cholesterol.  A large egg contains about 185 mg of cholesterol, and the recommendation from the American Heart Association (AHA) is a limit of 300 mg per day.
So, should you limit your egg intake?  The answer is essentially no.  The recommendation from the AHA can be confusing, and here is why.  It assumes that when you eat more cholesterol from food,  your blood cholesterol increases. But, your body actually doesn't work that way. The research consistently and reliably shows that the cholesterol you eat has very little impact on how much cholesterol is in your blood.
Your body actually makes its own cholesterol. Lots of it, in fact. Every single day you produce between 1 and 2 grams of it on your own. (That's 5-10 times the cholesterol in a large egg.) When you eat more cholesterol from foods like eggs, your body produces less of it. And when you eat less cholesterol, your body produces more.  Cholesterol is actually really important in your body. It is in every outer layer of all your cells.  It's a requirement for growth (in infants and adults). And it's required for the production of many hormones.
The egg paranoia has been based on the old assumption that eating the yolks will raise blood cholesterol (and increase your risk for artery and heart disease).  And even though the research has disproven the hypothesis — for most of the population — the medical community has been slow to reverse recommendations.  Unless you have medical conditions where your doctor has advised decreasing your cholesterol intake, then eating eggs everyday is just great!
So – Egg Cups for the win!
RELATED POSTS==>
cooking spray

6

large

egg

1/4

cup

milk

1/8

teaspoon

salt

1/8

teaspoon

black pepper, ground

1

medium

bell pepper, red

3/4

cup

spinach

1

ounce

cheddar cheese
Spray a muffin tin with cooking spray and  set aside. Preheat oven to 375°F.

Whisk the eggs and milk together in a bowl. Season with salt and pepper.

Dice the bell pepper into small pieces. Stack the spinach leaves, roll them up, and slice them thin. (This method is called chiffonade.)

Add the peppers, spinach, and shredded cheddar to the egg mixture.

Fill muffin cups 3/4 full and bake for 20-25 minutes until centers are set and no longer runny.

Allow to cool slightly before serving.
Calories: 78kcal | Carbohydrates: 2g | Protein: 6g | Fat: 5g | Saturated Fat: 2g | Cholesterol: 144mg | Sodium: 119mg | Sugar: 1g
[ad_2]